08.17.11
home | north bay bohemian index | the arts | stage | review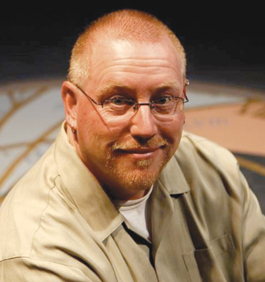 SIT RIGHT DOWN:
All of life's a campfire for yarn-spinner Dave Pokorny.
Tale Spin
Can Dave Pokorny save the art of storytelling?
By David Templeton
"As a culture, we have been gradually losing the art of everyday storytelling," says Petaluma standup comic Dave Pokorny. "Sitting in a roomful of people, listening to someone tell a true story—it's just such a cool, wonderful, fun, exhilarating experience. What I'm hoping to do is to bring the art of storytelling back to Sonoma County."
Last year, Pokorny established a popular monthly series called West Side Stories, in which folks are invited to tell five-minute true stories based on a different theme. Held at Petaluma's Pelican Arts Gallery (143 Petaluma Blvd. N.; 7:30pm) on the second Wednesday of the month, the shows have become so popular that earlier this summer, Pokorny started another West Side Stories show at Sebastopol's Main Stage West Theater (104 N. Main St., Sebastopol; 7:30pm), on the first Wednesday of each month.
"I've had people come just to be a part of the audience," Pokorny says, "and by the end of the show they're saying, 'I think next month I want to tell a story myself!' And these stories, because they are true, just have a kind of electricity that you don't find in a lot of other art forms."
It was Pokorny's discovery of the power in true storytelling that sparked his evolution away from traditional standup comedy and led him toward a more revealing and personal brand of comedy. Out of this came his critically acclaimed one-man show Based on a True Story, which this week kicks off another new series Pokorny is creating, Flying Solo. The third Wednesday of each month, he's bringing a different one-person show to Main Stage West, beginning this week (Wednesday, Aug. 17, 8pm) with his own show.
Based on a True Story is a comfortably episodic, long-form tale, in which Pokorny traces his adventures from hard-working comic to befuddled family man, along the way relating his adventures teaching comedy traffic school. Alternately hilarious and heart-warming, the show will be presented three more times in September (Fridays, Sept. 9, 16, 23, 8pm) at the Glaser Center in Santa Rosa.
"I got out of standup comedy precisely because there was no room in the standup world for the kind of storytelling I wanted to do," Pokorny explains. "Good storytelling has more than just laughs. In good storytelling, there's room for all kinds of emotions."
Pokorny likens his promotion of storytelling to a dad coaxing his kids to eat broccoli.
"If they think it's good for them, they won't eat it," he laughs. "So you have to slather it with cheese. Then they'll try it. That's a terrible analogy, though. I hate broccoli!"
Send a letter to the editor about this story.