08.18.10
home | north bay bohemian index | movies | current reviews | film review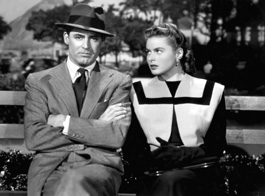 SPY VS. SPY: Cary Grant and Ingrid Bergman co-star in 'Notorious.'
Nocturne
Hitchcock's 'Notorious' still a stylish shocker
By Richard von Busack
When the director's most devoted critic Francois Truffaut called 1946's Notorious "the quintessence of Hitchcock," it was both an ambiguous remark as well as an appreciation.
Notorious is a number of things all at once: a spy thriller, a Gothic, a romance and a Story of O–like tale of love tested through suffering. It screens Aug. 20 at San Anselmo's Film Night at the Park and is worth a new look.
Ingrid Bergman plays Alicia, a woman who, like Bogart in Casablanca, doesn't care about patriotism and who would rather hit the sauce as hard as possible. That's when the highly authentic government agent Devlin (Cary Grant) enters the picture. Seduced by him, Alicia becomes an agent too, traveling to Rio de Janiero to learn her assignment. She is meant to get intimate with an old acquaintance named Sebastian (Claude Rains), a debonair Nazi deeply involved in some Fourth Reich scheme.
Rivalry rather than duty is the engine of the plot. Devlin's jealousy grows as Alicia takes on the role of lover and wife. That's when the two agents find out how lethal the assignment is going to be.
Screenwriter Ben Hecht's key work on Gone with the Wind made the liaison between a bastard and an anti-heroine seem urgent and romantic. He finds similar elements in this story. The stars bring it on in the famous nuzzle on a moonlit balcony over Copacabana; here is attention to the letter of the censors' law, while defying their spirit, through long-held clos-ups and interspersed dialogue. It's Hitchcock, though, who provides sympathy for the Devlin, as well as for the fascist cuckold. There's a wave of tragedy in Sebastian's wordless discovery of betrayal in a wine cellar filled with some very suspicious vintages. This sequence in the cellar shows the peculiar strength of Hitchcock's visual style. "Clarify, clarify, clarify," he used to say. Only Pixar seems to be following his advice these days.
Notorious is a seminar for lens geeks, and not only in the showy parts—visual distortion for sickness and hangovers, with Devlin all but spinning on the ceiling over the suffering Alicia—but also in the emphasis on the size and brightness of objects and in making a single close-up tell a story. Most startling is a shot that wafts us from a second-floor balcony to the palm of Bergman's lovely hand. There a stolen key rests, just as in the Bluebeard myth this tale so much resembles.
Also at work is another quintessential Hitchcock feature: the story of the bad girl who isn't. Note Bergman's revolutionary naturalism, with her unplucked eyebrows, her uncorseted flesh, her full-lipped face that wasn't anything like the look of a movie-studio porcelain doll. In early scenes, with hair that gets in her eyes and in her mouth, she's a punky slattern; later, she's groomed tightly, even painfully, by the Germans.
And there is Hitchcock's usual satire of warped, doting moms and dominated sons. As Sebastian's far-smarter mother, the memorable Leopoldine Konstantin shows off a one-handed cigarette-lighting trick, just like a Prussian officer in a silent film, as she figures out how to deal with the American agent in her household.
Notorious is in the world of film noir but not of it; it's a tough and dark film that's also one of the finest women's pictures ever made. The Twilight movies could use a little of Notorious'/ nocturnal power when dealing with the question of what happens when sides are chosen, and how far too far can go.
'Notorious' screens on Friday, Aug. 20, at 8pm. Film Night in the Park, 8. Creek Park, Hub Intersection, Sir Francis Drake Boulevard, San Anselmo. $3–$6. 415.272.2756.
Send a letter to the editor about this story.