08.19.09
home | north bay bohemian index | news | north bay | feature story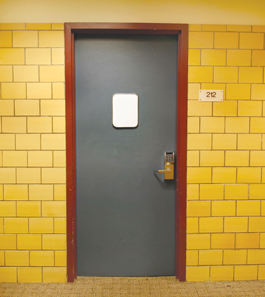 HELL HOLE: Where you and total strangers reside.
Dorm Rules
Four ways to survive close quarters after leaving the nest
By Cassandra Landry
The first week of college, freshmen are herded into multiple orientations, one of which most likely concerns "residence life." Here, spirited administrators and RAs (resident advisers) counsel the masses to have room meetings right off the bat to establish the do's and don'ts of sharing a 5-by-5 living space that would barely pass for a single bedroom on any other astral plane. Hardly anyone has the meeting, of course, because it's awkward. No one wants to be the uptight roommate who has, God forbid, pet peeves, sanitary issues or a plain-old gag response when the goal is to make friends as fast as possible.
Mark my words: have the meeting; it will save everyone time and stress. But if it doesn't happen, here are a few rules to live by.
The Sound of You Having Sex Is Disgusting "Sexiling," or being exiled from a room due to the sexual activities of a roommate, is possibly one of the most awkward situations to encounter when living with a stranger (even more so when it's a friend). True, as a dorm resident, it can be hard to find privacy, but throwing a tie on the doorknob or simply going for it like wild monkeys while your roommate is a few feet away is not the answer. No, we're not asleep, and yes, we are pissed.
Courtesy Calls Freshman year I was "lucky" enough to bunk with an extremely rich and condescending German girl straight from Munich. Not only did she never leave the room except to buy sushi and Ferrero Rochers, which she popped like aspirin, but she was overwhelmingly homesick. Her solution was to make five-hour phone calls to her family and boyfriend every day using Skype, and screaming, crying or laughing in rapid-fire German. This left me bitching in the stairwell about "my space" to my mother and developing a strong PTSD-like aversion to the German language. Whether the weapon of choice is Skype or a cell phone, leave the room for those long chats back home. Otherwise, you're slowly ruining your roommate's life.
Laundry Wars When is it really OK to haul someone else's laundry out of the dryer? The one sole instance in which I did this, my bad timing left me pulling someone's piles of ugly lingerie out right as she finally decided to come pick it up, 15 minutes after the timer had run out. But I stand by my decision: if the load has been done for more than 10 minutes, go for it. Washers and dryers in a dorm are precious and limited, so try to be on time! Walking in on someone like me emptying out the dryer (remember those tatty boxers Mom bought a few Christmases ago?) for all to see could be embarrassing. And please, don't save up three huge laundry bags of clothing for one big washer-dryer marathon; taking up six washers at a time is a surefire way to tick off everyone in the building.
Get Thee a Drain Strainer Some dormitories have suite bathrooms, where up to five people share a bathroom. If this is the case, it falls to its occupants to clean it—all of it. One thing that will increase the quality of shower life is a simple drain strainer. Case in point: freshman year, one of my roommates had gorgeous, long blonde hair. Every time she showered, she would push the strainer off to the side. An innocent enough action at the time, but a few months later when our shower was curiously clogged, it was I who could be found kneeling on the shower floor, pulling out a foot-and-a-half-long clump of wookie hair from the drain using a bobby pin. Not something I will ever forget, nor something I would wish on anyone else—except maybe that blonde roommate. If disaster strikes, put down the bobby pin and just call maintenance.
Dorm life can be character building, and usually brings out the ugly side of people. Done right, it can be survived and even enjoyed as long as boundaries are set. Because being sexiled once is enough for anyone.
Send a letter to the editor about this story.