08.19.09
home | north bay bohemian index | news | north bay | feature story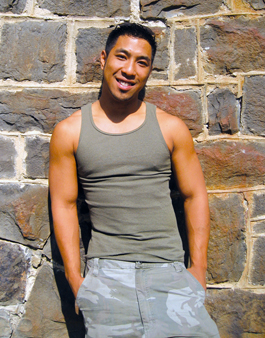 NOM DE TRADE: 'Kai' maintains his secrecy as well as his list.
DIY Kai
Craig isn't the only guy with a smart, active list
By Denis Lindsay
Facing Santa Rosa Junior College's busy crosswalk connecting Emeritus Hall and the Doyle Library, a young man sits behind a fold-out plywood table beneath a banner that reads "kaislist.net."
All around him there are promoters handing out flyers, petitioners asking for signatures and creepy old men handing out Bibles like business cards for Jesus. It's easy to turn a blind eye. There's only one thing that separates this young man from the others: what he has to offer students might actually help.
"My goal is to help students get their books cheaper," he says. While studying to be an EMT and a paramedic, this student has found a way to help himself and other starving college students with their textbook needs.
Kai likes to remain mysterious, offering no name other than Kai, which isn't even his real name. Even his Facebook page is listed under "Kai S. List." He will say, however, how he came to be so business-minded.
"My parents came here from Vietnam with nothing," he explains. "My father mowed lawns until he saved enough money for my mother to open a salon." His parents were then able to pay off their mortgage and sustain a successful business. Kai took notes. He watched his parents start with nothing, find a niche and, with a lot of hard work, create something from start to finish. It's a different time with different circumstances, but at heart it's the same story. Though Kai doesn't divulge much else about his life, he would like to save his fellow students a buck.
It wasn't until he found himself struggling to purchase a statistics book that he hit on the idea. He was low on funds, and Lord knows how the price of college textbooks will strip a poor college student of his cash. While many colleges have brought forth textbook buy, sell and trade programs, none was available exclusively for SRJC students. Finding no solutions for himself, Kai put his entrepreneurial mind to work, and with the help of computer technician Tomoc Field, kaislist.net was born.
Founded in 2008, Kaislist allows SRJC students to buy, sell or trade books without a costly middleman. With a registered username and password, students can post books for sale or request books under the "TextChange" option or post a note about a book in the "Stickies" section. "Stickies" do not confine themselves to postings about books. The occasional dirty joke and stories found in "Stickies" remind that there's nothing like a cheap book and a naughty punch line.
Kai may be the name and the face for the site, but by no means is Kaislist a solo effort. "Kai came to me and was looking for someone to help out with the technological side," Field says. "It sounded like a worthwhile project." With Field's tech support, the site has seen some significant advancement.
"Originally, the site was geared toward students seeing what we had available," Field explains. All the books were physically traded through Kai and Field. "Now students can interact with each other. We're not as interested in students interacting with us."
Kaislist boasts a network of about a thousand registered SRJC users. Due to promotional struggles, progress remains slow but steady. "About two to three people register every couple days," Kai says.
The interactive site thrives on user participation. These books can't trade themselves. "I'd love for people to tell their friends. Promotion is the hard thing right now," Kai says. "It's a little exchange program."
The SRJC hasn't been much help in spreading the word. For Kai to set up and promote the site on campus, the campus charges him $75 per day. "I'm surprised how little the school supports me. I place all my flyers around the school next to all the band flyers, and mine are the only ones ripped down everyday," Kai says. Numerous calls to the college failed to confirm or deny these claims.
Both Kai and Field are adamant that they want to keep this service free. Though the site is not very profitable, they are able to stay barely afloat with advertising. "We basically want this to be a free service that helps people out," Field says.
To log on, go to www.kaislist.net.
Send a letter to the editor about this story.