08.20.08
home | north bay bohemian index | the arts | visual arts | review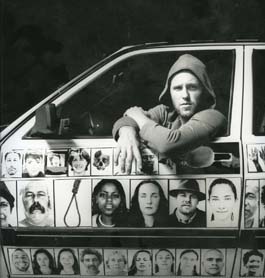 Photograph by Mike Garlington
'Photo car': Petaluma artist Mike Garlington's car doubles as a calling card.
Twisted Fairy Tales
This is Michael Garlington's universe, and other stories
By Joy Lanzendorfer
Michael Garlington is photographing a woman with a ferret in her mouth. The ferret stands on a stump, its head deep in the back of the woman's throat. It is licking saliva off her tongue, its white feet trembling to keep balance.
The woman is Cassidy Slater, one of many models who pose for Garlington for no payment other than a print of the photo. Slater is the model Garlington calls when he has a particularly weird concept, because, they both explain, she's "up for anything."
Today, Slater is wearing a drop-waist dress and her long hair is in ponytails. She's sitting by a fence at the end of the country road outside of Petaluma. Garlington, who is standing a few feet away with a Polaroid camera, tells her to look at him while the ferret is in her mouth.
"That's so good," he says, looking through the camera. "The eyes will be like, 'Am I doing something bad?' Oh, this could be such a good fairy tale. 'Hungry, hungry Etta, sitting by the fence.'"
Garlington, 31, has made a career of photographing people in situations like this. His work ranges from portraits of individuals on the street to people in strange, sometimes disturbing poses, such as black men in Ku Klux Klan uniforms, or a girl holding a fish with a person wearing a bear costume in the background. The photographs are usually black-and-white, and that, combined with the natural scratches and dots of the Polaroid film, give the photos a grainy look, the visual equivalent of a record playing on a Victrola. Garlington is often compared to photographers like Diane Arbus or Joel-Peter Witkin because his work has a dark, surreal quality.
After shaking the Polaroid, Garlington opens it to reveal a picture of a young-looking girl seeming to eat a live animal. The photo already has the twisted, otherworldly aspect Garlington favors. He is pleased.
"Very strange," he says. "I'd almost say done. You just don't get better than that."
He takes one more picture of the scene, this time from farther away, because he wants to get in how the fence bends in the background. The photo will go into series of twisted fairy tales that he is working on. The plan is to collect 100 fairy-tale photos and publish them with descriptions of the scene. Garlington is in discussions with a book publisher on the idea.
It's just one of many projects Garlington is working on. He has a show at Healdsburg's Hammerfriar Gallery opening Sept. 20, as well as other upcoming shows in Los Angeles and San Francisco, including a photo collage that he is making for the Mission Cultural Center. This is in addition to a myriad of other projects, from building the light structure for this year's Burning Man festival to directing a music video for the band Or, the Whale to teaching a class at San Francisco's Academy of Art University.
Walking back to his studio, Garlington laments the demise of Polaroid, which has been discontinued. He already pays $200 for a box of Polaroid film, and eventually, the change will force him to go digital.
"I used to shoot a whole pack of Polaroid on, like, one stupid shot, and then realized what a waste it was of them," he says, sighing. "Especially now. It is severely depressing that they have been discontinued, but you know, we carry on. It was just a tool."
Garlington lives and works in some old buildings he shares with other artists. He has recently sheetrocked the inside of a barn, which is painted red with stained-glass windows. Beside the beat-up couches and dirty rugs, Garlington's photographs are stacked everywhere—leaning against furniture, piled on the floor, hanging on the walls.
In the bathroom, Garlington drops the shots from the day in water to soak. The bathroom walls are covered with portraits of his recent trip to China. Each is a shot of a person he asked to pose for him. The Polaroids came in handy because he didn't speak Chinese; he could give each model a copy of the picture and still keep the negatives.
"It was a reasonable trade," he says. "There's no English either. It's all sign language. I didn't know how it was going to work, but you know what? Some people just get it. You know, you say, 'Stand there. Hold still. Don't move.' And they do."
Like many artists, Garlington finds people fascinating. Everyone has a good picture in them, he believes, even if they might not like it themselves. "When I walk down the street, I see people and think, 'God they're just amazing,'" he says. "I'm not saying they're really beautiful; they're just unique. That's what's so amazing about photography; you can capture that and live with it. It's a way to look. It's hard to look in someone's eyes without freaking them out."
Born in Petaluma, Garlington has lived in the North Bay most of his life. In his teens, he dropped out of high school and started working full-time in his stepfather's photo lab processing black-and-white photos.
Although he resisted photography at that age, the photo lab was a sort of apprenticeship for Garlington. He not only learned the dark room, he learned what made a picture work and what didn't.
"That was the best education a guy like me could ever have," he says. "High school just wasn't right. This gave me a direction. I was always into the arts. I had concepts going through my head, and I had no outlet. If you do something that long and that intensively for 12 hours a day, it installs in your mind."
When he was 18, Garlington started taking concept photos in his backyard. He painted a backdrop of a road and had his friends pose against it. From then on, he took as many photos as he could. By the time he was 20, he had hundreds of prints. He decided to approach Petaluma's prestigious Barry Singer Gallery with 50 of his best prints.
"I could see that Barry Singer was impressed," he says. "But I was a kid, so he was kind of punking me. He said, 'Well, this is good. I like this. Come back tomorrow with some more prints.' He didn't think I had them. So I came back the next day with another hundred prints, and he signed me that day."
Not long after that, Garlington got the idea of covering a car in photography and calling it Photo Car. Part gimmick and part free art show, the idea was to take his work to the public and see where it got him. When the car was finished, Garlington and some artist friends drove across country.
"I had got up two road trips before that without a Photo Car to collect photos, but I always realized it was hard to prove that I'm a photographer," he says. "Well, everybody's a photographer. But with this car, you don't need to say it."
The idea worked. Not only is Garlington's Photo Van—a later incarnation of Photo Car—known throughout the North Bay, it may soon be the subject of a documentary. A German filmmaker wants Garlington to come to Germany and build a new Photo Car.
After soaking the picture of the girl with the ferret, Garlington begins developing it in his darkroom. It's a painstaking process. He controls the light by waving his hands over it like he is making shadow puppets, choosing which parts of the photo will be lighter, which parts darker. Then he dips the print in three chemical baths to develop it. Later, he will tint the photo to give it the older look he prefers. If it works out, the photo will have a mix of new and old-fashioned sensibilities.
"I love timeless with some modern elements in it," he says. "I want [the photos] to have that old-timey look, like somehow, in some realm, this is Michael Garlington's universe. This is what goes on when you are playing cards in the belly of the whale. This would be it. I want to make my universe."
Preparing to move away from Polaroid, Garlington is making short movies for gallery showings, collaborating on a stop-motion film of an alien that turns a forest black. He has already built the alien in his backyard. It is eight feet tall, covered in tar paper and posable like a giant, homemade action figure.
But it is just one of many concepts. You get the sense, talking to Garlington, that the projects never stop.
"It's totally keeping busy," he says, "that's it. I find that if I ever feel depressed and I don't know who I am, because, you know, everyone gets depressed sometimes—I wanted to make something that's sure-fire proof against that. So that if I wake up in the morning and I'm feeling kind of apathetic or down, I can look around at the walls of art and say, 'This is who I am.' If I forgot, this is it."
 Michael Garlington exhibits 'conceptual photography' with Randall Ingalls at the Hammerfriar Gallery, Sept. 17–Oct. 31. 139 Healdsburg Ave., Healdsburg. 707.433.9600.
Send a letter to the editor about this story.