08.22.07
home | north bay bohemian index | sonoma, napa, marin county restaurants | review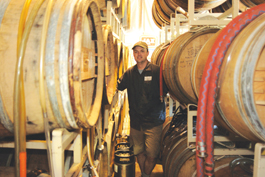 Photograph by Elizabeth Seward
Full Circles: Russian River Brewing Co. owner Vinnie Cilurzo left the wine business to make beer and now finds himself making it in wine casks.
Brewing Beer in Barrels
More microbrewers are turning to wine barrels to impart flavor and character to their suds.
By Alastair Bland
Sometimes I wish I were an oak barrel. They lead lives of luxury, housed for all their years in rustic wine country cottages, some with million-dollar views of the hills and the vines and the goats over on the neighbor's estate—and they're constantly full to the brim with fine wine. When one vintage goes to bottle, why, another is bound to arrive. It's paradise.
But what if your owner gives you away to a brewery? It happens—more and more frequently, it seems—and what a shock it must be to find yourself suddenly filled to the quarter hoop with bitter beer. Yet the brews getting this royal oak treatment are blessed with a whole lot of love, and months or years in a barrel can make a pretty remarkable brew.
"We've been barrel-aging our beers this way since 2001," says Vinnie Cilurzo, owner and brewmaster at Russian River Brewing Co. "Back then, it was just a side-hobby brew, but over time it got more popular. When we moved from Korbel to our downtown location, we started to make barrel-aging standard process."
Cilurzo uses oak barrels for several of his Belgian brews, such as Temptation ale, Supplication ale and Beatification ale. The barrel-aging lasts a year to two years or more, and currently four beers on the list spend some time in oak. The Beatification blonde ale sits for 23 months in La Folie barrels, while the other barrel beers hang out for about a year in their respective oak casks.
The Depuration blonde ale gets a year in a French oak Chardonnay barrel with an addition of white wine grapes; ditto for the Temptation golden ale, minus the fruit; and the Supplication brown ale spends a year in French oak Pinot Noir barrels with a slog of sour cherries tossed in for the duration. During the barrel time, a complexity, a thickness of flavor and a depth of character arrives in the body of each beer.
Barrel-aging beer is an old tradition in Belgium. Going hand in hand with this technique is the concept of sour beer, which Russian River is also pursuing. The barrel does not cause sourness; the Brettanomyces yeast used in fermentation does, but Cilurzo just happens to age three of his four sour beers in the old wine barrels. It's a double whammy, making for some of the most unusual beer in the North Bay. And be warned: This sour-beer business is no subtle nuance for tasting geeks to dance around with their delicate naming games; the beer's tartness surpasses lemonade.
At present, Russian River Brewing Company is increasing its barrel-aging operation. While Cilurzo, formerly a winemaker, now owns 60 barrels, he plans to acquire another 300 or more within months and put them into the production process at his new location on Santa Rosa Avenue, to open in early 2008. Every barrel will be deployed into the sour-beer line, though this expansion won't hit shelves until 2009, he says.
"It's literally like making wine. It's funny. I left the wine business to make beer, mainly because I liked the quick turnaround. You could have a batch of beer in 20 days. It's kind of ironic that I've come full-circle and am now making beers that take two years," he chuckles.
Some oak barrels never taste wine, getting dunked on day one into the Appalachian whiskey trade. American law states that whiskey barrels cannot be used twice, a stipulation that drives many American barrels overseas for a second bout of action in the Scotch industry. But for others, it's Miller time. Around the nation, more and more brewers of "extreme" beers have taken to aging their barley wines, stouts and old ales in retired bourbon and whiskey barrels, which can impart a severe yet very appealing bite of hard alcohol to the brew.
"Our first foray into barrel aging was in 1997 for our 10th anniversary," said Mark Ruedrich, president and brewmaster at Ft. Bragg's North Coast Brewing Co. "That one was a Belgian dubbel."
But today, the company's barrel experiments are growing more frequent. As we speak, the brewery pub is pouring a mighty version of its Old Rasputin Russian imperial stout, aged for 13 months in Kentucky bourbon casks as an ode to the big award-winning stout's 10th year of production.
Old Rasputin, in her pure form, is a hoppy, muscled-up, black-bodied titan of a beer, with an ABV of 9 percent and scents of toasted wood, dark chocolate and molasses in the finish. The bourbon barrel makes Old Rasputin X even better. The cask adds a heavy, sweet aroma and an appealing softness to the flavor. Vanilla melts with the bitterness and the toasted barley, and, tasted beside the original Old Rasputin, this stout is an entirely different drink. The ABV has increased, too, mostly via evaporation, to 11.6 percent by volume. This baby's hot. It's only available at the brewery, so go get it while it's there.
North Coast has also given its potent Old Stock ale the barrel treatment. Due for release in several months, the experiment will furnish two special versions of this super-beer—one aged in bourbon barrels, and the other in brandy barrels. Ruedrich has been doing some experimental tasting in the brewery's cellar, and he reports that the brandy has imparted a sherry-like flavor to the beer that, he assures, is "just remarkable."
Ruedrich has also siphoned a sampling of his famed Brother Thelonius Belgian-style ale into 10 former Syrah barrels. He says he does not quite know what to expect. Meanwhile, some new space at the brewery has opened up, says Ruedrich, and he plans to boost his barrel production from 50 to 100.
Down south in the yellow hills of Paso Robles, Pinot Noir and Merlot aren't the only things making people shout. Firestone Walker Brewing Co. has been fermenting—actually fermenting—beers in new oak for over 10 years, since the company's founding in 1996.
"This brewery comes from a winemaking family," says brewer Matt Brynildson. "We're really comfortable with the use of barrels."
The barrels are of new oak, which only mingles with the beer for two weeks or so during primary fermentation. This intercourse produces a mild toffee-and-vanilla flavor in three year-round beers: their Double Barrel ale, the Firestone pale ale and the Walker's Reserve, the latter an espresso-like chocolaty porter. However, for the brewery's 10th anniversary last year, management decided to push the barrel concept a step further.
"We kept our backs to the barrel-aging process for a long time," says Brynildson, "but when our anniversary was coming up, we decided to make a high-gravity beer, fermented in oak and aged in oak. It did well for us, and we've decided that now each year we're going to do an oak-aged release."
Last year's special release was not just barrel-fermented and barrel-aged, says Brynildson, it was also a blend of seven different beers. Just like winemaking. And they were whoppers. A triple IPA, an imperial brown ale, a robust porter, a hemp ale and a Russian imperial stout of 14-percent ABV all contributed to the soup. Brynildson describes the blend's flavor as "almost over-oaked, intensely vanilla and bordering on coconut." The 500 cases are all gone now but for a few bottles being passed around on Internet trading sites for hundreds of dollars each, but the next super-oaked blend is due out in October.
Like many other breweries in the barrel business, Firestone is boosting its barrel production over time. It makes one wonder: What's happening to beer? You know, that light yellow crap, the king of the Rockies or whatever they call it? Cilurzo believes that increasingly, more Americans prefer new and exotic foods and drinks, and that barrel-aged beer flows right along with the trend.
"Consumers are willing to experiment and try something totally funky and unique, and, compared to fine wine, these beers are a very affordable luxury. It's 10 to 12 bucks for a 375 milliliter bottle, but it comes out to be a lot cheaper than an equivalent $50 or $60 bottle of wine."
For North Coast's Ruedrich, barrel-treated beers represent a greater change in the very understanding of beer.
"Barrel-aged beer represents a development in our understanding of beer. For a lot of people, beer was always the light watery stuff in a can. That changed, and now it's changing some more as people discover that beer can improve over long periods of time. Aging them in barrels is just a further development in our understanding of what is beer. Really—what is beer?"
Like a fine wine, the answer keeps getting better with time.
Russian River Brewing Co., 725 Fourth St., Santa Rosa. 707.545. 2337. North Coast Brewing Co., 455 N. Main St., Ft. Bragg. 707.964.2739. Firestone Walker Brewing Co., 1400 Ramada Drive, Paso Robles. 805.238.2556. Also look for barrel-aged specimens from El Toro Brewing Company in Morgan Hill and a few high-alcohol oaked oddities from Drake's Brewing Company in San Leandro.
Send a letter to the editor about this story.