August 23-29, 2006
home | north bay bohemian index | music & nightlife | preview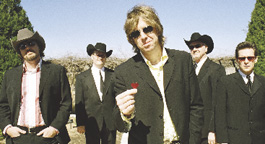 Fab Five: The Derailers are known as 'the Beatles by way of Bakersfield.'
Soldiering On
Revamped Derailers head for Healdsburg
By Bruce Robinson
'It's sort of like a trial by fire."
Brian Hofeldt is talking about hitting the road with the reconstituted version of his longtime band, the Derailers. Promoted as "the Beatles by way of Bakersfield," this honky-tonk group from Austin, Texas, went through a serious shake-up when cofounder and vocalist Tony Villaneuva departed to pastor a church in Oregon, but Hofeldt says that decision was not a surprise.
"Oh no, I knew for two years before he left. It was somethin' I was well-prepared for," he elaborates, adding that it also prompted him to reevaluate his own path.
"I wasn't really quite 100 percent sure what I wanted to do either at that point," he reflects in a laconic drawl. "We were both sort of equivalently disappointed with some of the experiences we'd had with our record label at the time and the rigors of bein' out on the road and just feelin' like you're banging your head on the door and it only feels good when you stop. But after a little bit of introspection and a little time for thinkin', I realized this is what I do, and I do like to do it and we had a lot of people expecting us to continue, so we just jumped back up on the horse, ya know?"
Rather than trying to replace Villaneuva, guitarist Hofeldt has taken on the lead singing role while expanding the group to include a broader sonic palette with steel guitarist Chris Schlotzhauer and the colorfully named Sweet Basil McJagger on keyboards. Bassist Ed Adkins and drummer Scott Matthews continue to anchor the impressively versatile rhythm section.
"Yeah, it's a little bit more work," Hofeldt acknowledges," but we've adjusted to these changes in the band and come out of it stronger."
That newfound resilience is on full display on their new CD, Soldiers of Love, recorded in Nashville with local legend Buzz Cason, a producer and songwriter whose tunes have been recorded by acts from Jan and Dean to Mel Tillis to U2. (His "Soldier of Love," covered here, was a minor hit for Arthur Alexander in 1962, and appears on the Beatles' Live at the BBC.)
"Buzz was a super motivator, just a real purely excited cheerleader for what we were doing," Hofeldt say appreciatively. "It gave all of us a big confidence boost. Certainly, when you have a wrench in the works, to have somebody come along and boost you makes a big difference."
The rock and roll energy behind their honky-tonk sensibility makes the band hard to categorize but easy to enjoy.
"Certainly, we're a honky-tonk band, but you'll hear some pop and R&B and rockabilly things come out of us, too," Hofeldt affirms. "We don't see a whole lot of difference; to us it's just another facet of the type of music that we like. We sort of sit in the chair of '60s music in general. When we go about doing what we do, it can cross genres."
Having just wrapped up recording Soldiers of Love last December, one might think it's a bit soon to be thinking about renewing that studio partnership. Wrong.
"We've already started cuttin' the next record," Hofeldt laughs, a little self-consciously. "He doesn't get that name Buzz for nothin', that guy; he doesn't let sleepin' dogs lie or the sun go down too quickly. We were through Nashville to do some promotion for this record, and Buzz says, 'Hey boys, while you're here, let's get in an' cut a couple.'"
The Derailers hit the Raven Theater on Friday, Aug. 25. Local trucker supergroup St. Peterbilt, featuring members of the Feud and Quarter Mile Combo, open. 8pm. $20-$45. Raven Theater, 115 North St., Healdsburg. 707.433.6335.
Send a letter to the editor about this story.