August 23-29, 2006
home | north bay bohemian index | music & nightlife | preview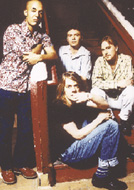 Crazy mixed-up world: From alt-pop darlings to boardwalk fodder in a mere decade.
Serious Fun
On vacation with Soul Asylum
By Karl Byrn
I spent my summer vacation on the boardwalk in Seaside Heights, N.J. Life on the boardwalk has a specific rhythm: lie around the hotel, swim at the beach, drink, eat wonderful greasy food and let the neon carnival atmosphere suck gallons of money out of you all night. It's home to Philly cheese steaks, the Tilt-a-Whirl, $3 ATM service charges and fried Oreos.
This is a sacred place for me. My in-laws live nearby, and we've brought our daughter here for many fun family times during her childhood. She's 18 now and headed for UC Davis in the fall, but I still associate the N.J. boardwalk with youthful innocence, pure summer release and, more importantly, the possibility of not taking myself seriously.
When my wife told me that Soul Asylum were playing locally (she'd caught an ad in some "What to Do" at the Jersey Shore tourist rag), I assumed she meant somewhere notable, like the Count Basie Theatre in Red Bank or a casino in Atlantic City. Turns out the once-famous, now-fading alt-rockers from Minneapolis were going to be a simple 10-minute walk to the last bar at the end of the boardwalk. No two-hour drive, no $65 ticket, no service charge, no planning, no logistics.
I bought two cheap tickets immediately, feeling a sudden thrill imagining that Soul Asylum could still sound as great as their glorious run through '80s indie labels and '90s majors did. But the truth is, I also didn't give a damn how they sounded. I just wanted to dig them again, enjoying the expectationless fun I've come to expect from the N.J. shore.
Soul Asylum gave me my fried Oreos and let me eat 'em, too. Their show, like their place in current rock, was wholly un-newsworthy. I was free to ditch hip critical analysis, slam a few beach-friendly plastic bottles of beer and get some easy kicks on their nice merry-go-round of alt-rock reminiscence. Their punky overdriven pre-Nirvana material was fun, as were their mainstream post-Nirvana mall hits. Their big home run, "Runaway Train," sounded like an afterthought, as if the band themselves viewed their history with no expectations.
They were more energized by tracks from their new album, The Silver Lining. Soul Asylum have always done a good job of being light-hearted inside of seriousness, and that dynamic continues on The Silver Lining. The disc is informed by images from war-ridden headlines (really stoopid lyrics like "She's got weapons of mass destruction"), but it isn't obsessed with them; rather, there's an undercurrent of enjoyment. The swinging "Lately" is one of the best bring-the-boys-home songs of the year, not simply because it states its position clearly or because it's a cute portrait of a soldier and his new family back home, but because it identifies the loss of something simple ("'Cause it seemed like neither one of them was having any fun").
Soul Asylum released a live album last year that also reveals playful seriousness. After the Flood: Live from the Grand Forks Prom is full of terrific covers. We get Marvin Gaye's "Sexual Healing" for levity, Smokey Robinson's "Tracks of My Tears" for angst and Alice Cooper's "School's Out" to have it both ways. But closing the set with Lulu's "To Sir with Love" and Glen Campbell's "Rhinestone Cowboy"? A band has to have a huge Cheshire Cat grin going to be so earnest about such almost-serious material.
"So take your shattered faith / And make it just like new with crazy glue and tape" sings Winona Ryder's ex-boyfriend Dave Pirner on the new song "Crazy Mixed Up World." He knows those things won't last. Soul Asylum and their live music may not matter much, but they don't have to. It's good enough for me that they're my guilty pleasure, right there in my sacred space, along with warm sand, tuition payments, neon and fried Oreos.
Soul Asylum play the very notable Great American Music Hall on Aug. 23. $20. www.gamh.com.
Send a letter to the editor about this story.