08.24.11
home | north bay bohemian index | sonoma, napa, marin county restaurants | preview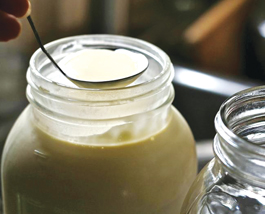 Photo courtesy of Chiot's Run
UNPASTEURIZED:
Can't a private group enjoy milk straight from the udder without being raided by undercover agents?
Raw Deal
Drop the raw milk and put your hands behind your back
By Ari LeVaux
Wednesday, Aug. 3, was a telling day for freedom of choice in America. In Venice, Calif., the Rawesome raw food club was raided by armed federal and county agents who arrested a club volunteer and seized computers, files, cash and $70,000 worth of perishable produce. James Stewart, 64, was charged on 13 counts, 12 of them related to the processing and sale of unpasteurized milk to club members. The other count involved unwashed, room-temperature eggs, a storage method Rawesome members prefer. The agents dumped out gallons of raw milk and filled a large flatbed with seized food, including coconuts, watermelons and frozen buffalo meat.
That same morning, leaders at the multinational conglomerate Cargill were calculating how best to deal with a deadly outbreak of drug-resistant salmonella that originated in a Cargill-owned turkey factory.
When word of the raw milk crackdown got out, a bevy of high-profile lawyers offered to represent the raw foodies pro bono, says Rawesome member Lela Buttery, 29. Christopher Darden, who helped prosecute O. J. Simpson, appeared at Stewart's arraignment just in time to lower his bail from the $121,000 that prosecutors had recommended to $30,000, and to strike a rarely used clause that would have prevented Stewart from employing a bail bondsman.
Buttery tells me the mood in the courtroom was almost comical when Stewart's initial $121,000 bail was announced. "We'd been watching child molesters and wife beaters get half that amount. James is accused of things like processing milk without pasteurization, and he gets such a high bail amount. The felons in court burst out laughing."
Rawesome began 12 years ago as a small group of raw-milk drinkers who occasionally pooled their money and bought unpasteurized milk from local dairies. As more and more people joined, the club's distribution facilities grew from a cooler in a parking lot to a rented storage space to the current warehouse. The inventory diversified, but the presentation remained minimal: food in piles, haphazardly labeled, as agreed on by club members.
Rawesome members sign a form attesting that "as a member of this private members-only club, I demand access to food that is (1) produced without exposure to chemical contaminants such as industrialized pesticides, fertilizers, cleansers or their gases; (2) complete with its natural unadulterated enzymes intact; (3) may contain microbes, including but not limited to salmonella, E. coli, campylobacter, listeria, gangrene and parasites; (4) the cows are grass-fed and the goats are pastured on a regular basis; (5) fowl are regularly given the opportunity to range outdoors and not fed soy products; and (6) eggs are unwashed and may have bacteria and poultry feces on them."
The Aug. 3 raid was not Rawesome's first. A June 2010 raid resulted in seizures of cash, computers and other equipment that has yet to be returned, Buttery says. It also resulted in Rawesome's agreement not to distribute raw milk from Santa Paulabased Healthy Family Farms, which had been supplying it to members.
With the prohibition against selling to Rawesome, Healthy Family Farms owner Sharon Palmer, 51, disbanded her dairy herd. Palmer and her employee Victoria Bloch, 58, were also arrested Aug. 3 on charges related to marketing chicken products, one count of which involved Rawesome's unwashed, room-temperature eggs.
California is one of the few states to allow the sale of raw milk, but only from dairies permitted by the state. Until Aug. 3, Rawesome had been obtaining raw milk from a variety of sources. Buttery says many club members object to the Holstein breed used by the one certified raw-milk label in California. Organic Pastures. They prefer milk from heirloom cattle varieties that produce different proteins. And many members prefer the milk of goats, sheep or even camels. It's safe to say that uncertified raw milk was being spilt at Rawesome, which would indeed be illegal. But since the general public can't just walk in and buy raw camel milk, Rawesome members believe there's nothing wrong with a private club of consenting adults obtaining unpasteurized raw milk together.
Later that day as Stewart, Palmer and Bloch languished in jail, Cargill issued a voluntary recall, four months after people began getting sick, of 36 million pounds of ground turkey traceable to an Arkansas plant. Cargill has a history of deadly outbreaks, is a major supplier to the nation's public-school meal programs and sells turkey under dozens of brand names, none of which include the word "Cargill."
The labels at Rawesome don't say much either, but records in the club's office sourced each batch of raw milk. This information, before it was seized, was available to members. If a contamination issue were to have flared up, members contend, it could have been much more quickly traced than, say, that Cargill turkey. Buttery says that in 12 years there hasn't been a reported problem.
Yet despite a lack of victims, Rawesome stands accused. And while Cargill has no shortage of victims, nobody at the company has been charged with a crime over the turkey recall. The government has fewer options against multinational corporations than it does against neighborhood food co-ops. The Department of Agriculture oversees the safety of meat products but can only encourage "voluntary recalls" of products that have been infected with antibiotic-resistant pathogens, reports Tom Philpott in Mother Jones. The final decision to recall was left to the company, which inevitably considered the bottom line as well as public safety when making its decision.
While Cargill self-polices, the Rawesome club has been under more intense scrutiny than members even realized. "Since the raid, it's come out that we've been under investigation since June 30 of last year," Buttery says. "They've been monitoring us from unmarked vehicles. They have agents who have become members."
Despite massive financial problems in California and Washington, D.C., the government was able to find enough money for a multi-year, multi-agency undercover investigation to root out information that nobody was trying to hide. Details on the provenance of Rawesome's raw milk is available to all members, including the government spies.
As for Stewart's legal battle, the DA has added tax evasion and money laundering to the charges. In the meantime, Stewart and his associates are prohibited from having anything to do with the sale of raw milk.
While the Cargills of the world get to decide the rules, tax dollars will be used to clamp down on the raw-milk mafia. This is the state of food freedom in America today: it's being sacrificed to corporate gods in the name of food safety.
Send a letter to the editor about this story.