August 30-September 5, 2006
home | north bay bohemian index | sonoma, napa, marin county restaurants | feature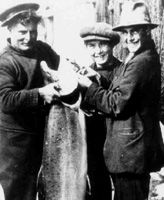 Back in the day: The 'famous' Exe Salmon was caught in 1924 and weighed over 61 pounds. From today's perspective, that's some fish story.
Down and Out in Bodega Bay
This year, commercial salmon fishing is all about the ones that got away
By Alastair Bland
Hard times have fallen on the men and women who catch and sell Chinook salmon for a living in Northern California. The federal government lopped off the first three months of the season, limited each vessel to a meager 75 fish per week for the summer and set a quota of just 20,000 fish for the entire fleet of boats between Point Arena and Point Sur for the month of September.
John Burke, 67, is a crab fisherman and part-time mechanic who has lived in Bodega Bay for 50 years. He nicely sums up the present situation. "Seventy-five fish? Hell no, it's not enough to live on, and it don't help much if they get a 15-fish week! A lot of [fishermen] are getting part-time jobs. I don't even fish salmon anymore; I make better money working on the boats. But I won't be very busy this year, because the fishermen don't have any money and they're all applying for disaster relief."
The problems afflicting this year's salmon season are easily traced back to the fall of 2002. The federal government granted alfalfa, potato and radish farmers in California and Oregon a surplus of Klamath River water. The river's level dropped significantly, and the Klamath warmed to nearly 70 degrees Fahrenheit in the sun. A plague of parasites resulted, infecting and killing somewhere between 30,000 and 60,000 adult Chinooks as they moved into the lower reaches of the river. Some did spawn successfully, but due to the government's continued mismanagement, the waters remained low and warm all year, and when the young smolts moved downstream toward the Pacific, a great many died.
The 2002 progeny would have been large, mature four-year-olds today, but only a few survived, and the current regulations were designed to protect these fish as they prepare for their upstream spawning journey this fall.
"Sure, the Klamath salmon mix a little with the Sacramento [River] fish, but we don't impact the Klamath fish nearly as much as they say we do," says Chuck Wise, a 65-year-old Bodega Bay salmon fisherman who has fished locally since the late 1960s.
Wise and most fishermen insist that their catch consists primarily of Sacramento fish, and he refers to a study conducted in 1998, 1999 and 2000. For a two-week period in each of those seasons, California Department of Fish and Game (DFG) officials removed a small chunk of flesh from each fish as the commercial vessels unloaded at the dock. Protein analyses revealed that for every 1,400 fish caught off Bodega Bay, just one came from the Klamath River. The rest were Sacramento River salmon.
Alan Grover, a senior biologist with the DFG, is currently working on ocean salmon fisheries management.
"Chuck's right," says Grover. "They aren't taking many Klamath fish, though it's more like four percent of the catch. But they're not supposed to be taking any Klamath fish, and they should be thanking the federal government for letting them catch any fish at all."
Grover defends the logic behind the tight restrictions. He says most years only about 300 California vessels make a full-time living fishing for Chinook salmon. Together, they account for approximately 90 percent of the total catch. However, more than a thousand vessels up and down the coast currently possess commercial salmon permits. Thus, the DFG and the federal government can never predict how many boats will actually be out there on the water pursuing the salmon.
"So we had to be conservative about it to make sure that the minimum required number of Klamath fish survives."
Wise says that this year is by far the most restrictive season he can remember, yet California's sport fishermen, allowed a limit of two Chinooks per day, have enjoyed all the liberties of every previous salmon season. They have enjoyed good fishing, too.
"The sport guys were out there getting limits for weeks," says Wise. "The fish were thick right out front here, right when we should have been harvesting. One Saturday, 600 sport boats passed by the Coast Guard station here, and during the week there were between 200 and 400 out there each day."
Wise, meanwhile, dropped and hauled cages for Dungeness crab in June to maintain some income, but the next month was tough.
"This July, we had no income whatsoever, and they took away May and June also. That's half the season, and those are the months when we usually catch fish."
When the commercial season opened on July 26, the fishing was outstanding. The commercial fleet worked the waters about 10 miles off the Marin and Sonoma coast, trolling metal flashing spoons and artificial squid behind the boat at 3 knots. They landed almost 10 fish per hour, and by the day's end most vessels had 75 Chinooks--their entire week's limit. This was not exactly a blessing, for the fleet now had to go back to the harbor, sell their fish and wait for six long days moored to the docks. When they finally returned to the water the next Wednesday, the salmon were gone.
"They should have set up a quota system or something," says Wise, "so that we could have been out there fishing each day while the salmon were actually here. The way this thing has been set up is just idiotic. I mean, the fish are still out there, but the government won't let us fish where they are."
North Coast Fisheries, a receiver based in Santa Rosa, purchases Chinook salmon from approximately 60 local vessels and a hundred others in California and Oregon. Owner Mike Lucas says that in the average year his company receives about a million pounds--nearly one-fourth of the entire state's catch.
"This season, we're at about 6 percent of that," he says, "maybe 10."
Gutted, the average Chinook salmon weighs 14 pounds, ranging up to 30 pounds or more. At $5 per pound at the dock, a fisherman this season has a chance at making $5,250 per week--but that's a long shot.
"Yesterday, I fooled around all day," says Wise. "I burned 50 gallons of gas and got one fish."
Wise and hundreds of other fishermen in California and Oregon turned to the federal government for help earlier this summer, and they were offered aid on a loan basis at 4 percent interest.
"But how could we pay back loans if we've got no income?" asks Dave Yarger, a 68-year-old Bodega Bay fisherman and president of the local Fishermen's Marketing Association.
Relief came on Aug. 10, when Secretary of Commerce Carlos Gutierrez officially conceded that the season has been a disaster meriting grant relief. That could total $80 million.
"Don't you think that's fair, to get grants?" Yarger asks, quickly answering his own question. "I do. We didn't cause this problem. We didn't do anything. Low river flows did. And look, there's not one of us that just wants free money from the government! We want to work! We want to stay afloat until they fix this problem. The government has just put us out of business!"
The 75-fish limit will persist until September, at which time the federal restrictions will grow even tougher. The entire commercial fleet will be allowed 20,000 fish--between 10 and 20 salmon per week per boat, depending on how many vessels actually take to the water.
But many have already quit.
"We've got a half dozen boats or so in the harbor here that haven't even been out at all this year," Yarger says. He reports that numerous fishermen have taken on part-time work as painters, welders, ranch hands and construction workers, and that the coastal economy is hurting.
"In a normal year, I spend $2,000 on gear alone" he says. "This year, I've spent $200. Multiply that by all the guys that are fishing, and that's a legitimate disaster. There's nothing before that's ever compared to this."
And still the recreational fishermen are enjoying free range on the open seas.
"They're allowed to fish up at Fort Bragg right now, and we're not," says Yarger. "I had a sport guy come up to me a few days ago with a 35-pound salmon asking if he could borrow my fish scale for a minute. Now that's like salt in a wound, isn't it?"
Regional restrictions have made salmon fishing a tough vocation for several years prior to this summer, and Yarger says that the Bodega fleet is drifting together toward retirement.
"No young guys are coming in," he says, shaking his head. "The government's just making it impossible to make a living. I just can't see making house payments and supporting a kid on these fishing wages. I think now the average age of the Bodega fleet is up in the 60s. I'm ready to retire."
Fishermen are anticipating another poor year in 2007, for the Klamath River experienced further, though less highly publicized, water mismanagement in 2003.
"The population estimates on the three-year-old fish in the ocean is low," says Wise. "It's going to be another tight season next year."
But perhaps these hard times are just one small part of being a fisherman.
"That's really the thing about this job. It's not just an income, because some years there just isn't any. It's a way of life."
Send a letter to the editor about this story.