08.31.11
home | north bay bohemian index | sonoma, napa, marin county restaurants | preview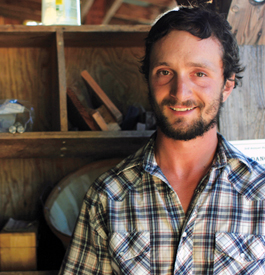 Photograph by Gabe Meline
AFTER SCHOOL SPECIAL:
Dana Revallo's farm stand is open every Wednesday at Summerfield Waldorf School & Farm.
Three-Star Farmer
How did Dana Revallo go from working at the best restaurant in the world to growing food on a west Sonoma County farm?
By Stett Holbrook
Dana Revallo arrived at his new post as head farmer at Santa Rosa's Summerfield Waldorf School this spring via an unlikely route: the backdoor of the world's best restaurant.
Before it closed last month, El Bulli was routinely named the top restaurant in the world. Located in a tiny coastal town in northeasternmost Spain, the Michelin three-star restaurant was open just six months a year. Scoring a reservation was like finding a meteorite with a diamond in it.
Ferran Adria, El Bulli's chef, is generally referred to as the father of molecular gastronomy, an avant-garde school of cuisine that borrows techniques and ingredients from the chemistry lab to manipulate food into otherworldly textures and forms. Think edible foams, gels and spherified asparagus. The final dinner menu at El Bulli featured otherworldly dishes like "clam meringue," "olive spheres" and "hot cold gin fizz."
Adria plans to reopen the restaurant as a culinary research foundation center in 2014 and continue to stretch the boundaries of cuisine, but the truth is, he never liked the term molecular gastronomy and the copycat chefs who deployed the techniques he pioneered. As Revallo explains it, Adria wasn't playing with food to be clever; he was simply striving to elevate the intrinsic flavor of ingredients to new heights.
Revallo was one of hundreds of cooks who came from around the world to work at El Bulli. Most had high-placed references to help secure a job with the man regarded as the world's greatest living chef. Revallo got in a different way.
"I put on a chef's coat and walked in the back door and started doing dishes," he says. "I lasted like five minutes." Dishwashers, it turns out, didn't wear chef's coats at El Bulli.
When El Bulli's chef de cuisine saw Revallo scrubbing pots, he pulled him aside to ask what, exactly, was he doing. When he realized that the slight, brown-haired cook wasn't on his roster and had simply walked in off the street, he said he'd check with Adria to see if he could stay. If the boss said no, he'd have to go.
As Revallo tells it, Adria said they might as well put him to work. Revallo stayed on as an intern for six months and then was offered a paid position. He ended up working at the restaurant for three years as chef de partida, a line cook responsible for meat and fish dishes.
It was a great experience, but a blur, given the stress and pressure of the job. "I had a girlfriend, and after my time at El Bulli, I realized I didn't know her," Revallo says. "[The restaurant] was all-consuming. It was three years of my life, and I don't remember very much."
What he does remember was meeting Rian Rinn. Rinn, a graduate of Summerfield Waldorf School and now a butcher at Golden Gate Meat Company, was working a short kitchen internship at El Bulli.
When Revallo wasn't working at the restaurant, he spent the other half of the year working on a farm in northern Italy that hosted a small number of guests looking for a taste of rural Piedmont. Revallo had first worked on a farm as a teenager in his native Michigan, and that's where he discovered his love for food; as much as he liked the camaraderie and charged atmosphere of El Bulli, Revallo found he loved farm life and wanted to return.
When his new friend Rinn heard this, he encouraged him to come to Sonoma County and tour Summerfield's farm. "He basically told me I had to come to Sonoma County," Revallo says, adding that after he left Spain, Rinn would call him every day to get him to come. It worked. He finally came and signed on as an intern at the farm.
The 18-acre working farm is one of the oldest biodynamic farms in Sonoma County and weaves agriculture into the school's curriculum. The farm grows a variety of row crops and grains; it also has chickens, a few dairy cows, goats and a gang of chatty buff ducks. After three years as an intern, Revallo was offered the position as Summerfield's head farmer in March. It might not have been the career path he originally set out for when he left Spain, but growing food and sharing it with young people has tremendous appeal, he says.
"The kids are really excited about coming out here," he says. "Those little experiences on the farm are going to be things they remember for the rest of their lives."
Working as a cook in the rarefied world of El Bulli and then putting on boots to dig potatoes at a farm in western Sonoma County might seem like trading glamour for grit, but for Revallo there's a logical continuity between the two: great food.
What's different is that now he's sharing that food with kids instead of diners willing to spend $400 per person. Summerfield is a private school, but its programs and produce are available to a far broader segment of the population than El Bulli's yacht-owning customers. (And El Bulli didn't offer financial aid.)
In addition to its regular school K-12 curriculum, Summerfield offers summer farm camps open to all children. Revallo grows produce mainly for the school's students and staff, but produce is available to the public on Wednesdays at the school's farm stand. In winter, one can also buy heirloom squash from the farm at Sebastopol's Whole Foods, the only biodynamic produce available at the store.
When he was at El Bulli, Revallo used to lie awake at night trying to figure out how to do his job faster and make it through another shift in the kitchen. Working on the farm is different.
"It feels really good," he says, "at the end of the day."
Summerfield Waldorf's farm stand runs on Wednesdays from noon to 5pm. 655 Willowside Road, Santa Rosa. 707.575.7194.
Send a letter to the editor about this story.