08.31.11
home | north bay bohemian index | features | north bay | green zone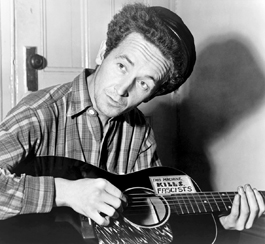 Imagine
Writing a new political folk song
By Juliane Poirier
As a folksinger, I cheerfully embrace three-chord politics. But I'm struggling at the moment to write a song expressly for these times. See, I want the song to bring people together in this crisis, but in a hopeful—and not a hateful—sort of way.
John Lennon is said to have remarked that his song "Imagine" only became popular because he sugar-coated the message. "Imagine" is still co-opted by elevator Muzak companies and those drawn to what sounds sweetly soothing. But Lennon's message was not sweet. It's revolutionary to the brink of anarchical. "Imagine there's no countries / It isn't hard to do / Nothing to kill or die for / And no religion, too." If he'd written it today, Lennon's phone would get tapped (wait, forget that—his phone was tapped).
I want my song to be sugar-free yet unite people with hope for what the United States might become. But is it misleading to leave out ugly parts of U.S. history—legal genocide, slavery, misogyny, bigotry and greed-based warring? And what about our "personhood" of corporations, leading to a corporate state? If I put all that in, would anyone want to hear the song?
When Woody Guthrie's "This Land Is Your Land" became popularized by folkies during the 1960s, they omitted the two political verses, both cynically critical of property rights and relief lines of jobless workers. The original version ends with a declaration that "some are wonderin' if this land's still made for you and me"—not very encouraging, but reflective of the political times then and now.
Guthrie was pro-union and played a guitar whose surface bore the phrase "This machine kills fascists." That fierce little message is nowhere to be found in the innocuous harmonies of Peter, Paul and Mary singing about diamond deserts and ribbons of highway. In 1992 Canadian songwriter Leonard Cohen brought the fierceness right into the music in a scathing folk-rock song, "Democracy," which predicted sardonically that "democracy is coming to the U.S.A."
To forward that prophesy, I think we need a song to organize everyone, to inspire them to act. Ordinary people standing up together for justice possess more true power than any corporate state. I wish I could figure out a folk song (not too sweet, not too fierce) that would help people experience the "live as one" concept Lennon suggested—and also hasten the arrival of Democracy. A difficult undertaking. Who knew what complexity lurks behind three-chord politics?
Send a letter to the editor about this story.