08.31.11
home | north bay bohemian index | movies | current reviews | film review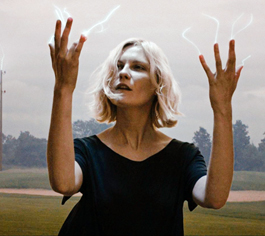 TESLA TRESSES:
Kirsten Dunst is a standout this fall in Lars von Trier's newest.
Fun with Popcorn
Fall films contain plenty of highlights
By Richard von Busack
It's an avant-garde all-stars game this fall as the cinema scene sees new movies by the late Raoul Ruiz, Lars von Trier, Pedro Almodovar, Steven Soderbergh and Gus Van Sant. Tarsem Singh, the gilded, berserk post-Michael Powell fantasy-maker that he is, directs 'Immortals' (Nov. 11), an art deco tale of ancient Theseus and the minotaur. Ruiz's perfumed, voluptuous 'Mysteries of Lisbon' (fall) should be a remarkable sign-off from a protean talent.
October is packed with film festivals: the Mill Valley Film Festival (Oct. 6–11) will have its schedule announced Sept. 13, the day before the Santa Rosa Film Festival opens (Sept. 14–20) and a month before the Sonoma County Jewish Film Festival (Oct. 18).
October coincides with the World Series, which makes the release of 'Moneyball' (Sept. 23) timely.
Meanwhile . . . cancer? We've got it. Van Sant's 'Restless' (Sept. 30) stars Mia Wasikowska as a moribund who cheers up a downbeat young guy (Henry Hopper). '50/50' (Sept. 30) has the reliable Joseph Gordon-Levitt (Brick) as a newly diagnosed patient facing a prognosis of even odds, with the help of Seth Rogen.
Catastrophes? Also set. First is Steven Soderbergh's presumably pocket-sized approach to plague in 'Contagion' (Sept. 9). Worlds collide in von Trier's most entertaining and melodrama-free work, 'Melancholia' (November). An encircled bride (Kirstin Dunst) fights off her family and a rogue planet wobbles into a ̉dance of death" with Earth; it's cosmic, cryptic and gorgeous.
In the very promising 'Take Shelter' (Sept. 2), a blue-collar foreman (Michael Shannon) estranges himself from his wife (Tree of Life's own Eve, Jessica Chastain) with his obsessive preparations for the mother of all tornadoes. On the subject of slightly smaller-scale catastrophe (namely, the U.S. electoral system) is George Clooney's scandal-drama 'The Ides of March' (Oct. 14).
Horror? Got that, too, with Pedro Almodovar's 'The Skin I Live In' (fall). Meanwhile, Jim Sheridan's 'Dream House' (Sept. 30) tells of a couple (Daniel Craig, Rachel Weisz) who move into one of those New England murder houses.
For utter spine-chill factor, see if you can stand up to Sept. 23's 'Dolphin Tale,' the true story of a prosthetically aided porpoise who revenges himself on his cruel tormentors.
Of the usual reprises and redos, the most dismaying is Rod Lurie's screamingly unnecessary new version of 1971's Straw Dogs (Sept. 16). Happily, 'Killer Elite' (Sept. 23) is not another Peckinpah remake but rather an adaptation of Sir Ranulph Fiennes' Feather Men, starring Clive Owen and Robert De Niro.
Meanwhile in sequels and remakes, a new 'Footloose' and a third version of 'The Thing' (both Oct. 14), 'Paranormal Activity 3' and a 3D 'Three Musketeers' by Paul W. S. Anderson. Then 'Johnny English Reborn' (Oct. 28), 'A Very Harold and Kumar Christmas' (very funny previews, actually). We'll see Shrek sequel 'Puss in Boots' (Nov. 4). Reheated emo vamps or tap-dancing penguins, your choice: 'Happy Feet 2' and 'The Twilight Saga: Breaking Dawn (Part 1)' (both Nov. 18).
One film that makes all this recycling bearable: Tomas Alfredson (Let the Right One In) taking on John Le Carre's 'Tinker Tailor Soldier Spy,' previously filmed in 1979 with Alec Guinness. This time, Gary Oldman is smaller-than-life master spy George Smiley, playing a deadly game of whack-a-mole.
Send a letter to the editor about this story.