08.31.11
home | north bay bohemian index | news | north bay | news article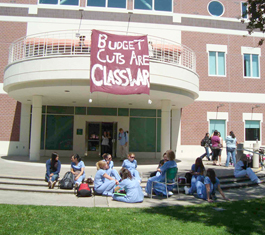 TOUGH CRUNCH:
Fees at SRJC are up $10 per unit this year, and Gov. Brown's 2012 budget isn't helping.
Costly Units
Painful cuts continue to chip away at the SRJC
By Darwin Bond-Graham
On the Santa Rosa Junior College's first day of the semester, Aug. 22, students from a group called Strike! hung four large banners from balconies overlooking the campus' busiest quads and paths. One dangling above the Student Center read "Education Should Be Free," a message resonating among the many enrolled at the SRJC who are reeling from years of fee hikes.
Once upon a time, before 1984, education at SRJC was, in fact, free. Since, tuition has risen in small increments, but fees at the 93-year-old community college are up $10 per unit this year, from $26 to $36. It's the single largest increase ever for the SRJC. A full-time student now must pay upwards of $432 a semester. That means the cost of obtaining an AA or AS degree is now $2,160 in fees alone.
According to the SRJC's financial aid director Kris Shear, scholarships will pay the fees for 1,250 students this semester. Another thousand are taking federal loans, and 12,500 low-income students have their fees waived entirely. Shear says the number of applicants seeking financial aid has tripled in the last six years due to the faltering economy and fee hikes.
In 2005, the California Community College Chancellor's Office conducted an impact study and concluded that fee increases were linked to a decline in enrollment. "Student fee increases and budget cuts resulted in significant declines in enrollments of approximately 230,000 to 315,000 students, and a loss of more than 12,000 course sections," the office reported. That's bad news for the state's economy, which is reliant on the higher education system to educate workers and generate new ideas.
"The damage that cuts inflict is slow. It's always stressing you out in the back of your head," says James Scherf, an SRJC student and member of Strike! "It's impossible not to feel like you're getting less than if you'd been a student here a few years ago. It's hard when you hear how many more sections used to exist for a certain class or the classes that'll disappear when an instructor retires or how the four-year university you want to transfer to just hiked its fees again."
Sonoma State University, where many SRJC students transfer, is also reeling from fee increases and budget cuts. Gov. Brown's 2012 budget will cut $650 million from the CSU system and may require a midyear cut of another $100 million. An additional fee increase of 12 percent was approved on July 12, and the average CSU fee now stands at $6,422 per semester.
Rising costs beyond the campus are also driving some students away, and forcing those who remain further into debt. A recent study by the National Center for Public Policy and Higher Education pointed out that for community college students, "rental housing costs comprise the largest share of student budgets and grew nearly 25 percent from 2000 to 2005 in California, compared with an overall inflation rate of 16 percent in the state. Textbook and supply costs increased by 31 percent during the same period. Costs for medical care and childcare also outpaced general inflation by a large margin."
Another cost increase is transportation. Earlier this year, the SRJC ended its bus-pass program. As long as most SRJC students drive to class, rising gas prices will further eat into their paychecks and loans. With all of these factors combined, the cost of going to school is drastically increasing while the state withdraws support.
Who's to blame for this creeping dismantling of public higher education? Scherf and fellow students who organized the first day's protest point to the state's inequitable tax system as a primary cause. Flyers distributed by the students in front of the library and Emeritus Hall explain that "budget cuts to education are part of the larger historical attack by the super-wealthy corporate class on the rights and services of the working class."
Strike!, which Scherf says is made up of JC students and high school students from Santa Rosa and Petaluma, was founded last year during the statewide protests against the then-record cuts to all levels of education. "California should honor the California Master Plan for Higher Education of 1960," Scherf says, "and provide secondary education 'tuition free to all residents of the state.'"
Whatever the causes, most students, faculty and staff warn that the state is killing the goose that laid the golden egg. "This is what gave California a world-class economy," says CSU's chancellor Charles Reed, of higher education. "Californians have begun disinvesting in [the state's] future."