08.24.11
home | north bay bohemian index | columns | wine tasting room of the week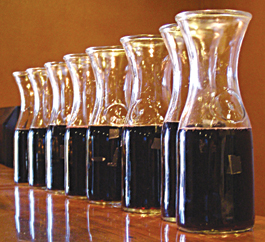 Is Syrah Cool Again?
By James Knight
'Syrah decline" is not just a viticultural malaise, but a marketing debacle. Touted as the next big thing, the widely-planted varietal suffered a fate worse than Merlot when Pinot became the darling of the trade. But savvy true believers are hedging with a gangly prefix that distinguishes a style that more closely approximates that of the northern Rhone than Australia—or Alexander Valley, for that matter. Four of the following wines mention "cool climate," "wind-swept" or "ocean breezes" on their back label; one struts it out in front. Blind-tasted and scored from one to five stars.
Red Car 2009 Sonoma Coast Syrah, 'Boxcar' ($23) A departure from the brooding 2008, this has pretty strawberry, raspberry fruit roll-up, potpourri, fennel and milk-chocolate aromas. Sweet, spicy strawberry preserve flavors, offset with cranberry tartness, lengthen the finely tannic finish for days. ♦♦♦♦
Cline 2009 Sonoma Coast Syrah, 'Cool Climate' ($16) Rubber stewed in prunes, charcoal, charred blackberries, oil of vanilla. A classic, opulent mouthful of blueberries and cream; hefty tannins but a supple palate. If you were turned off by the feral, porty 2007, come back. ♦♦♦♦
Lynmar 2008 Sonoma County Syrah, Kick Ranch ($45) Aromas of campfire, smokehouse and grilled blackberries, with big blueberry, black-fruit flavors; a stoney finish. May well "kick" ass when it all integrates. ♦♦♦♦
Enkidu 2008 Russian River Valley Syrah, 'Odyssey' ($34) Black fruit, blood, teriyaki jerky and slate aromas; blueberry and mincemeat pie. Dried fruit flavors and a warm, pleasing finish. ♦♦♦♦
Spicerack 2009 Sonoma Coast Syrah, 'Punchdown' ($25) Purple-magenta, this is the biggest of recent Punchdowns. Crushed blueberry, purple marker, allspice aromas and a wide, dry finish with velour tannins. Revisit in a year or so. ♦♦♦♦
Old World 2005 Mendocino County Syrah, Rockin' R Ranch ($25) The aromas have taken on orange blossom notes, and flavors of stewed plums and apricot nectar are melding enticingly with warm brambleberry. ♦♦♦♦
Clary Ranch 2006 Sonoma Coast Syrah, Grower's Reserve ($28) "Serious dill action." Weeds, weak black tea, bergamot and a brickish hue point up a wine in its senescence—or are these the savory characteristics of a Syrah planted at the edge of reason, near foggy Marin? Drinking well, with a nice texture. Should reward the skilled sommelier. ♦♦♦
Bump Wine 2008 Sonoma Valley Syrah ($22) Yes, that valley, but hailing from the Annadel Vineyard in the windy, northern tip of the appellation, with aromas of charcoal, Christmas cake and dark pipe tobacco; dried black fruit and tea flavors infused in slate and blood, it's a dead-ringer for product of that other valley, the Rhone. ♦♦♦
Send a letter to the editor about this story.