09.01.10
home | north bay bohemian index | the arts | visual arts | review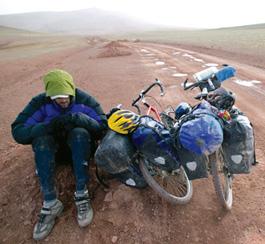 Mapping the Trek
Rick Gunn's bicycle ride around the globe
By Gabe Meline
Rick Gunn rode his bike around the world, not because he needed the exercise or had a parcel to deliver to Istanbul, but rather to honor his mother, who'd only had the tiniest taste of her dream of traveling overseas before passing away. In 2005, the photojournalist at the Tahoe Daily Tribune and the Carson City Nevada Appeal met with his editors, promised to report back from the road, and started pedaling. By the numbers, the 46-year-old covered 25,811 miles in three years, cycling through 33 countries and wearing out three bikes, 15 sets of tires, five pairs of cycling shoes, two laptops, two cameras, five iPods and 21 sets of headphones.
He also took 52,000 photos along the way, which form the core of his 90-minute presentation, Soulcycler: Words and Images from a 25,811-Mile Bicycle Journey Around the World. While sending photos back to the Tahoe Daily Tribune, Gunn traveled Europe, Uzbekistan, Kyrgyzstan, India, Bangladesh, Southeast Asia, Indonesia, Australia and New Zealand, and every picture, as the saying goes, tells a story. Whether cycling on a 1,000-mile rocky road in Tibet on three packs of Ramen a day at an elevation of 18,000 feet or volunteering at an orphanage in Nepal, Gunn also filed columns for the newspaper based on his experiences.
"When I left, people assumed I would be killed by the Muslim people," Gunn says. "But even though I told these people I was an American, during the height of the Iraq War, I was treated very kindly and openly. If a person had very little food, they would share half of that with me." Not everything along the way was so joyful; in Vietnam, the remnants of war were evident. "Kids that have had their limbs blown off from live bombs under the mud," Gunn describes. "For me, to see that we hadn't learned the lesson from Vietnam and that we were moving into a similar situation, it was extremely impacting, emotionally."
Gunn returned in 2008, riding across the Golden Gate Bridge to complete his journey, and his stories and photos speak to the strength of the human spirit. "If you have dreams now," he says, "don't wait, because they're not going to wait for you." Rick Gunn speaks on Wednesday, Sept. 8, at Sonoma Veterans Memorial Hall (126 First St. W., Sonoma; 7pm; $10) and Thursday, Sept. 9 at the Wells Fargo Center (50 Mark West Springs Road, Santa Rosa; 7pm; $10). 707.545.0153.
Send a letter to the editor about this story.