09.01.10
home | north bay bohemian index | sonoma, napa, marin county restaurants | preview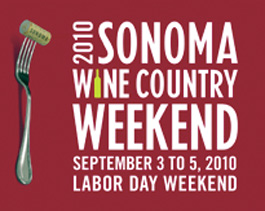 Taste of Two Valleys
Running Sept. 3–5, the 2010 Sonoma Wine Country Weekend raises a glass to the fruits and labors of our finest wine growers and best chefs. The weekend begins with winemaker lunches and dinners on Friday, swells large with the Taste of Sonoma walk-around food and drink expo on Saturday at MacMurray Ranch, and culminates on Sunday with the 18th annual Sonoma Valley Harvest Wine Auction held at Cline Cellars. For locals with a little cash to burn, the Taste of Sonoma is the highlight as some 200 wineries and food purveyors pour and purvey in a truly lovely Russian River valley setting adjacent to Fred MacMurray's beloved spread. Don't forget to drink some beer along the way, as those suds often refresh best and pour largest. It's best to arrive with a strategy of attack and a full breakfast in one's belly on Saturday, Sept. 4, from 11am to 4pm at MacMurray Ranch, 9015 Westside Road, Healdsburg. $150–$195. www.sonomawinecountryweekend.com.
Gretchen Giles
There's a first time for everything, and this time's no different for the inaugural Napa Valley Tomato Festival. On Saturday, Sept. 4, Connoll Ranch and the Napa County Farm Bureau will host gourmet food purveyors, tomato vendors and tomato contests for a day full of good food. Live music performances by Grass Child and Passin' Through accompany the fun, and a VIP dinner following the festival promises meat and produce from Long Meadow Ranch. Connolly Ranch, 3141 Browns Valley Road, Napa. Fest, $20; VIP dinner, $100. 707.224.5403.
Anna Schuessler
Send a letter to the editor about this story.