09.12.07
home | north bay bohemian index | music & nightlife | band review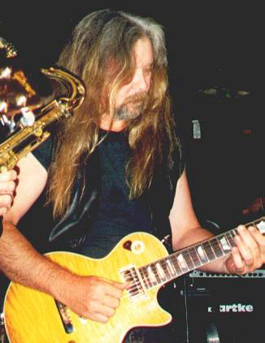 One Busy Dudek
Versatile guitarist Les Dudek plays rare West Coast gig
By Bruce Robinson
Far more people have heard Les Dudek's playing than his name. Most recently, that would likely have been some of the incidental music he has written and played for such television shows as Extra, Friends and Access Hollywood, as well as for NBC, ABC, ESPN, etc. But his pedigree as a rock and roll sideman is even more impressive, including stints with artists as varied as Boz Scaggs, Stevie Nicks, Dave Mason and Cher. Especially attentive FM listeners may recall the two tracks from his mid-'70s solo albums that garnered significant airplay: "City Magic" and "Old Judge Jones."
The tragic death of Duane Allman in October 1971 left a huge gap in his namesake band, and Dickey Betts invited Dudek to sit in on the sessions for the album that became Brothers and Sisters. That's him doubling the quicksilver lead lines with Betts on "Ramblin' Man" and strumming the acoustic intro to "Jessica," the two key tracks from that landmark album.
But he wasn't invited to join the Brothers, so Dudek came west, where he joined Scaggs' touring band and appeared briefly on the mega-smash Silk Degrees album. Boz's old boss, Steve Miller, also took a liking to the long-haired guitarist, and brought Dudek to contribute to his Fly Like an Eagle and Book of Dreams LPs.
By this time, a solo contract was virtually inevitable, and Dudek signed on with Columbia (which led to the aforementioned FM airtime), a move that meant he had to pass on a competing invitation to join a new powerhouse Bay Area band, one that went on to achieve a measure of success as Journey.
Throughout all this, and everything that has followed, Dudek's stylistic versatility--everything from sweet pop-rock tunes to lean, authentic blues—and tasteful understatement have served him well musically, even if they have not made him a household name. He's a damn good singer, too.
Les Dudek samples touchstones from 40 years of personal musical history in a rare local club date at the Last Day Saloon on Friday, Sept. 13, at 8:30pm. Up-and-comers Holiday and the Adventure Pop Collective (tuba!) open. 120 Fifth St., Santa Rosa. $10–$13. Phone 707.545.5876
Send a letter to the editor about this story.