September 13-19, 2006
home | north bay bohemian index | the arts | visual arts | preview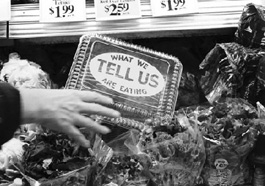 Sage of anxiety: Christy Rupp's work reflects consumers' concerns about the safety of our mass-market food supply.
Dystopia Now
'Hybrid Fields' anything but bucolic
By Gretchen Giles
On a beautiful early August morning, Arizona artist Matthew Moore was knee deep in plumbing. Trying to solve a leak at the former pet-grooming building adjacent to the Sonoma County Museum, Moore patiently untangled some tubing. His wife, the painter Carrie Merrill, her hair held back by a railroad cap, was up on the building's roof laying down outdoor lines of irrigation.
Toiling in Santa Rosa rather than their home near Phoenix, their materials often stolen off the site, Moore and Merrill were working on a perfectly fine, already existing roof--to make a roof. A roof of green. A roof of history. A roof, that is, of hops.
As a part of the Sonoma County Museum's ambitious new exhibit, "Hybrid Fields"--a compilation of some 14 artists and collectives addressing food and agriculture in surprising, disturbing and sometimes funny ways--Moore conceived a plan to plant the roof with hops along runners trained to create an A-frame. The piece speaks to the disappearance of the American farm and Sonoma County's own fickle agricultural history, its fields regularly changed to accommodate hops and prunes and apples and grapes. As for the hops themselves, well, they've not proven receptive to long-distance conceptual challenges. But no matter, Moore's vision more than compensates for irrigation woes and sulky weather patterns.
A fourth-generation farmer, Moore, 29, has spent the bulk of his artistic life tracing the disappearance of his family's farm as the land his great-grand uncle first acquired in 1932 is gradually sold off to developers. Seeing his land as a palette, Moore has documented that loss by acting like a farmer. When a 35-acre parcel that the family had leased for generations was sold a few years ago with plans to develop it into housing tracts, Moore obtained the building plans. Exactly following the tract's outline, he last year planted an adjacent field of grain on his remaining land to directly mimic the development. Called Rotations: Moore Estates, black wheat outlined the asphalt roads, reddish brown grain was laid down for each proposed home and white wheat created background spaces.
Leaving his plumbing problems aside for a moment, Moore says, "It's difficult to watch what you had turn into something you don't." In the next breath, he explains the farmer's natural end to Rotations: Moore Estates.
"I disked it."
For Moore, the paving over of American farmland is more than just a personal woe; he wonders where our food will be grown if arable acreage is merely tract housing waiting to be developed. He mourns a way of life that's sustained his own family for some 80 years. He aims to reflect the uneasy duel of food against shelter by attempting to build a roofline of hops.
And he feels totally responsible for it all.
"Agriculture is culpable because we provided the impetus by, in the case of Arizona, turning the desert into farmland and by taking down the natural landscape," he says. "Developers are just the next wave."
Moore and Merrill anticipate selling the rest of the farm next year. After much research, they're planning to move to Sonoma County and lease farmland in Marin. With his Arizona homestead gone, Moore's palette will change, as will his art. But he'll still keep farming. "I'm in agriculture. That's my job," he explains. "The processes I use are dictated by the history of agriculture. I'm trying to be really conscious that I'm a part of this."
Hops are not the only plants actually growing at the museum as part of the "Hybrid Fields" exhibit. Bay Area artist Susan Leibovitz Steinman has planted five apple trees next to the institution's entrance, housed in a planter shaped like a pentagram to honor the star shape in which apple seeds align. Mulched in pink quartz, the trees will remain in place through the end of next year, the seeds of their resulting fruit propagated, and new saplings added.
Creating a freakish, controlled urban mini-orchard, bound as it is by salvaged human-made materials, exemplifies the creepy goodness of the exhibit's boundaries as conceived by curator Patricia Watts. Apples, after all, will bolt the instant they're allowed to, each tree capable of creating five genetically diverse variations of itself in the first generation.
Painter Alexis Rockman contributes The Farm to "Hybrid Fields," a work that was recently exhibited at London's Camden Art Centre. Painted in bright, playful colors and at first looking like a jolly cartoon, Rockman's ghastly portrait of farm life actually features a genetic-farming disaster of the near future where vegetables grow preshaped for packaging and the animals are too lurid to describe.
Speaking to Greenpeace International in 2004, Rockman explained, "The stuff that may not be noticed--for instance, the geometry of the landscape in The Farm--to me, is far more scary than an albino hairless mouse with cartilage growing on its back. I am also trying to make an emotionally resonant image that reaches people. I try to make it as credible as possible without making it boring."
Christy Rupp, who works mainly with the signage and consumer anxiety shown in the "Hybrid" exhibit, is currently re-creating extinct bird species through sculptures constructed of fast food chicken bones sucked clean of every last greasy bit. And then, of course, there's the collaborative oddness of the Oakland-based team JohnKo Systems/Old World Innovations. Actually known as John Colle Rogers and Mariel Triggs, the duo propose Mouvinte, the wine of a cow, as a modest proposal for a fabulous new Wine Country product that could serve both old and new agricultural models.
As a side note, one of the interactive artistic models of "Hybrid" is a call for all cooks to submit their homemade preserves to the exhibit. Oakland artists Susanne Cockrell and Ted Purves will preside over the preserves, which will be tasted, judged and exhibited, certainly evoking the county fair tradition but also mimicking the canonization of objects routinely collected and displayed in a museum.
Sweet stuff, and heady, too.
"Hybrid Fields" exhibits Sept. 16-Dec. 31. A reception is slated for Saturday, Sept. 16, from 5pm to 7pm. Events crowd each of the following months, including soil bar tastings for terroir (Oct. 6, Nov. 3); a beer tasting and history of hops discussion (Dec. 2); a seed exchange (Oct. 29) and panel discussions (Oct. 28, Nov. 11, Dec. 10). 425 Seventh St., Santa Rosa. 707.579.1500. www.sonomacountymuseum.org.
Send a letter to the editor about this story.