09.14.11
home | north bay bohemian index | news | north bay | news blast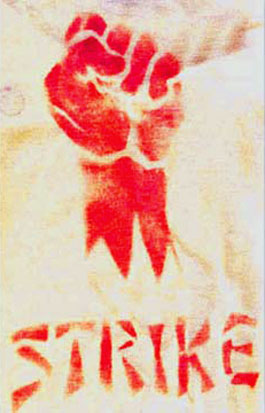 News Blast
By Leilani Clark
Youth Brigade
If you visited the SRJC on the first day of fall classes, you might have seen large handmade banners strung from school buildings reading "WTF! Where's the Funding?" and "Budget Cuts Are Class War!" These protests were the work of Strike! Hella Youth Organizing for Power, a feminist, anti-racist, anti-capitalist youth organization based in Sonoma County. "We want to discuss why we're in this mess and how we can get organized and fight back," states the group about a teach-in on budget cuts and student resistance. Get hella informed on Thursday, Sept. 15, at the Arlene Francis Center. 99 W. Sixth St., Santa Rosa. 5pm. http://hellayouth. blogspot.com.
No Cars Go
In 2005, San Francisco design firm Rebar transformed an average, run-of-the-mill, two-hour parking space into an actual park, complete with a tree, bench and bright green Astroturf. Thus was born PARK(ing) Day, which has since become an annual, worldwide event. "Citizens, artists and activists" are invited to transform metered parking spots into temporary public parks on PARK(ing) Day, and thus reimagine the possibilities of urban infrastructure. This year, Santa Rosa's Share Exchange participates for the first time, creating an outdoor park in a space in front of their downtown Santa Rosa storefront. The parking space promises to buzz with activity, including a series of "Ask the Adviser" business and life consultants, games and snacks straight from a solar oven. The public is invited to get in on the action on Friday, Sept. 16, at the Share Exchange. 531 Fifth St., Santa Rosa. 9am–6pm. 707.331.6850.
Send a letter to the editor about this story.