09.14.11
home | north bay bohemian index | sonoma, napa, marin county restaurants | preview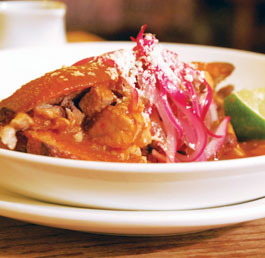 Photograph by Alma Shaw
DROWNED IN FLAVOR:
The torta ahogada doused in chile sauce is among chef Juan Zuno's specialties.
Buenas Noches
'Noches Mexicanas' at Rocker Oysterfeller's a dream for Mexican food lovers
By Stett Holbrook
Rocker Oysterfeller's has developed a split personality.
Five nights a week, the Valley Ford restaurant serves a menu of Sonoma County–inspired, Southern fried cooking, gumbo, chicken-fried duck, rabbit and corn meal dumplings, molasses and bourbon-braised pork—and of course, lots of locally plucked oysters.
But Monday and Tuesday nights, the upscale, downhome restaurant shelves its regular menu and busts out an all-Mexican one: Noches Mexicanas. They call it a pop-up restaurant, simply because the chef, ambiance and food undergo a transformation. Votive candles with images of Jesus and sundry Mexican saints grace the tables. Special tequila cocktails flow from the bar. The menu is pleasingly small: six appetizers and four entr–es, all very good.
Rocker Oysterfeller's occupies the ground floor of the historic Valley Ford Hotel, making it feel like a cozy hideaway along the winding wilds of fog-shrouded Highway 1. The town of Valley Ford is little more than a straight stretch of the road, but the restaurant is one of the main attractions, along with a few other eateries, a market and store. The five-year-old restaurant had been closed Mondays and Tuesdays, but as business grew, co-owner Brandon Guenther decided to open seven days a week.
Guenther wanted to mix things up for the mainly local weekday crowd, so he called on his friend Juan Zuno in Mexico and asked him to come up and cook. Guenther has opened three restaurants and a catering business with Zuno in Mexico. "He's a great, talented chef and great friend of mine," he says.
The menu leans toward Zuno's native state of Jalisco but offers a few carryovers from the regular menu, like the nectarine, butter lettuce and chvre salad ($11). Presumably, the spiced pumpkin seeds sprinkled on top qualify it for the Mexican menu. There are Tomales Bay oysters on the menu, too, served with the restaurant's signature jalapeno-honey mignonette ($12 for six oysters). The spicy-sweet-tart sauce is great with the briny oyster, but I like my shellfish colder; these were too warm for me.
The star of the starters were the tacos dorados ($8), three rolled tacos prepared with freshly made corn tortillas wrapped around potatoes or beans, lettuce and cotija, a mild and salty cow's milk cheese. Served with a mild but flavorful tomato salsa, the pleasingly oily tacos are a good warm up, especially with one of the bar's signature tequila cocktails like "La Epoca," reposado tequila muddled with nectarines, lime juice and agave syrup ($11).
But the entr–es are where Noches Mexicanas really shines.
The torta ahogada ($14) is quite a sandwich—and it ought to be, for 14 bucks. The big, toasted roll is spread with refried beans and loaded with carnitas and made with Niman Ranch pork. Then the whole thing is draped in a thin, flavorful chile sauce. "Ahogada" means "drowned," and although the sandwich is well-doused in the sauce, it holds up well. The pickled red onions and sprinkling of cotija cheese inside and spicy dipping sauce on the side complete the dish.
If there's any doubt the food here is a step above, go straight for the duck carnitas ($16, quarter pound and $26, half pound). The Petaluma-raised, Liberty Farms duck is cooked confit, cured in salt and then slow-poached in its own fat and an achiote-and-Coke marinade. The moist, subtle caramel- and cola-flavored duck is then served in ragged hunks alongside just-made corn tortillas with a good green salsa to set it all off. Dios mio, que rico.
What really seals the deal for me is carne en su jugo ($14), sliced beef from Bloomfield's Sonoma Natural Beef simmered in a tomatillo and chipotle broth enlivened with Rancho Gordo pinquito beans. My only complaint is that this rancho-style dish didn't come with nearly enough of those fresh tortillas to soak up every last bit of the hearty and delicious broth.
I suspect some folks will balk at paying $14 for a plate of Mexican food if they're used to eating $6 burritos. But this isn't your typical taqueria fare made from commodity food products. The food is made with premium, locally sourced ingredients. We've become accustomed to paying very little for Mexican food, but you get what you pay for, and what one gets at Rocker Oysterfeller's is very fine indeed.
Guenther and Zuno plan to change the menu periodically and introduce new items from different regions of Mexico. Next up is the Yucatan peninsula. "We'll virtually tour Mexico from Valley Ford," Guenther says.
That's a trip worth taking.
Rocker Oysterfeller's, 14415 Hwy. 1, Valley Ford. 707.876.1983.
Send a letter to the editor about this story.