09.14.11
home | north bay bohemian index | news | north bay | news article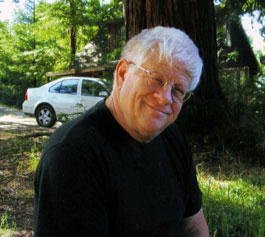 GLOBAL REACH:
Fittingly, Ken Rose's radio show about saving the world is listened to the world over.
Small Station, Big Ideas
With a three-watt radio station, Ken Rose is hoping to change the world—one interview at a time
By David Templeton
As self-made philosopher-interviewer Ken Rose looks ahead to the third season of his internationally tuned-to radio show What Now, he's reasonably optimistic that the world will not come to an end before he's completed another slate of high-profile, one-on-one conversations.
"I'd say we still have five to 10 years to save this thing," Rose says amiably of the global economic and social crisis that is the main focus of his exploratory attentions. "I'm definitely interested in saving the world. I do feel that we can fix this ghastly dilemma we find ourselves in."
When Rose, now in his 60s, first began his weekly, long-form interview show two years ago—broadcasting on the volunteer-powered three-watt local radio station KOWS (107.3-FM) out of Occidental—no one predicted that he'd end up with more than 10,000 regular listeners, over 10 times the population of the town primarily served by KOWS. Of course, 99 percent of Rose's listeners are not actually hearing his show live on the radio every Monday afternoon from 11am to 2pm; most are catching the show online, either through KOWS' live streaming or by dipping into the show's vast archive of podcasts.
"Lets face it, my live listenership is minuscule," Rose shrugs. White-haired and bespectacled, Rose is seated at a table surrounded by notes, papers, spreadsheets and books. "We get a few people listening to the show as it streams live," he allows, "but the podcasts are what is making this show work."
Rose plucks one page from among the many and slides it across the table. "Look at this. I just found out a couple of days ago that in 2011 the podcasts have been listened to in more than a hundred countries all over the world!"
The majority of listeners are in the United States, Canada and the United Kingdom, but the analytics indicate a fair number of listeners in Sweden, Spain, Israel and the Czech Republic, and a handful in Uganda, Jamaica, Peru, Belarus and Macedonia.
"Isn't that amazing? A local three-watt radio station is reaching thousands of people across the planet," Rose says, shaking his head. "That's the world we're living in now. The local is global. Looking at these reports, I feel a little like a farmer. We plant the seeds by inviting the world's greatest thinkers to come on the air and talk with me, the goal being to harvest superior, reliable, human intelligence, and to provide it free of any cost to a global listenership. That's how I see what I do—the show provides intellectual nutrition to a starving world."
The key element to Rose's success with What Now (note the deliberate absence of a question mark in the title) is his knack for attracting interview subjects of a remarkably high caliber, and then to engage them in rich, fruitful, thoughtfully entertaining conversation. Though many are relatively unknown, taken as a whole Rose's interviewees constitute an impressively diverse brain trust of far-thinking writers, scientists, artists, politicians and philosophers.
Along with such local heroes as Project Censored's Peter Phillips, consciousness pioneer Ralph Metzner, singer Teresa Tudury and author Sam Keen, Rose has discussed the state of the world with such well-known thinkers as Howard Zinn, Jerry Mander, Fritjof Capra, Terry Tempest Williams and Paul Erlich.
"They're not all gems," Rose admits of the 250-plus interviews he's logged so far, "but let's just say we have a very high batting average. They are all formidable in their field, some of our greatest teachers right now. These are people working on how to feed the world and restore the oceans, people who are working in all sorts of fields doing extraordinary work."
To Rose, the underlying message of What Now is simple: there is an enormous amount of good news in the world, but it's often hiding right behind all the bad news.
"We're stuck in a dark place, the human race is," Rose says. "But by shining a light on the people who are doing the heavy lifting for all of us, we might actually be able to finesse this terrible, terrible predicament we're in right now. I want to flood the world with human intelligence. That seems to be our best chance at not only surviving, but thriving."
'What Now' is on 107.3 KOWS-FM and streaming at www.kowsradio.com Mondays, 11am–2pm. Extensive show archives are available at www.pantedmonkey.org.