09.15.10
home | north bay bohemian index | music & nightlife | band review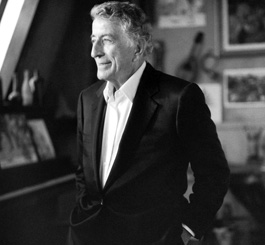 Art of Excellence
Tony Bennett's timeless appeal
By Gabe Meline
To folks of a certain age, or of a certain mindset, the song titles alone tell the story: "Fly Me to the Moon," "The Good Life," "The Best Is Yet to Come." When Tony Bennett sings timeless classics from the Great American Songbook, there's no need for marketing campaigns or pop-music repackaging or attempts to sell to the young. And yet that's exactly what happened in 1970, when Columbia Records forced Bennett to record Tony Sings the Great Hits of Today!, a collection of songs by the Beatles, Richard Harris and Glen Campbell. ("I actually regurgitated when I made that awful album," Bennett would later quip.)
Bennett, of course, got back on his feet, and on his own terms. Through some clever maneuvering by his son (and manager), he succeeded in connecting with a younger generation in the 1990s by remaining exactly as he was, is, and probably always will be. The suit and tie, the small jazz combo, the impeccable phrasing of "Just in Time," "Smile," and "The Shadow of Your Smile"—all these combined to make what Frank Sinatra called "the best singer in the business."
I've seen Tony Bennett four times, and with each year he manages to outdo himself. With age, his voice has lost none of its quality, something Sinatra never could claim. Bennett's between-song patter faithfully acknowledges songwriters and arrangers, gives back story to early hits like "Cold, Cold Heart" and tells of highs and lows in his own career, which is so far very well-lived and well-loved by those eager to feel young again. A few years ago in Sonoma, as he reprised his famous coda to "I Left My Heart in San Francisco," I watched as members of the crowd stood and literally waved their walking canes through the air in appreciation. It was incredible.
Tony Bennett plays on Tuesday, Sept. 21, at the Wells Fargo Center. 50 Mark West Springs Road, Santa Rosa. 8pm. $90–$140. 707.546.3600.
Send a letter to the editor about this story.