09.16.09
home | north bay bohemian index | sonoma, napa, marin county restaurants | review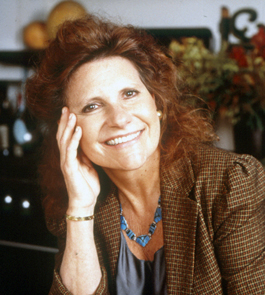 Tiny Woman, Huge Influence
By Clark Wolf
With the Silver Palate Cook Book firmly in mind, I used to joke that most '80s recipes needed the kind of editing that fashion of the era also inspired: remove eight ingredients and serve. Such was the exuberance of Sheila Lukins, co-author of that seminal tome (with Julee Rosso) that sold 2.5 million copies and spawned a range of careers that now runs from really good local restaurants popping up all over American to, well, Rachel Ray. Sheila, who died Aug. 31 at a young 66, was a tiny spitfire with a sprawling apartment at the legendary Dakota in Manhattan. She inhabited the sort of pivotal cultural position most recently exemplified by the frustratingly appealing film Julie & Julia. She was a modern gal, for her time, with an intense desire to have meaning, a voice in the culture and the acknowledgements to go with it. Like Julia and unlike Julie, she had
means—including a couple of husbands with cash—and imagination. She had passion, a strong work ethic and a vivid imagination. And like so many of that time, she loved to play. You could see it in her recipes and in the fanciful doodles with which she painstakingly adorned nearly every page.
Her recipes had strong colors and bold flavors. They mixed cultures before the term fusion even became a whisper. In fact, some of it really didn't stick—or go together—but all of it was tasty and fresh and confident. And so very American.
Sheila was a caterer when Rosso, a marketing director and client, suggested they join forces and provide the sorts of meals, at home or office, that those fast-paced and high-competition times required. This was before New York City had really good food in reasonably affordable restaurants. When I landed in Manhattan, from San Francisco, in 1982, the only place I could find perfectly fresh, simply grilled fish with a crisp, perfect salad for lunch was at the Grill Room at the Four Seasons Restaurant, for about $160 for two. It was a city that considered a "regular coffee" something thin, burnt, in a blue and white paper cup, with two sugars and milk. The women had considered calling their new enterprise the Blue Onion, but New York Times food writer Florence Fabricant, then writing for New York Magazine, suggested that these girls formed a sort of Silver Palate and a name, a business and a tsunami of cultural influences was born.
The Silver Palate shop, just 152 square feet on the Upper West Side, embodied every basic principle of a specialty food store we've come to expect. It offered an edited collection of what we might need that night or over the weekend, for our small urban families or as a hostess gift for a Hamptons weekend. They made and bottled or canned their own condiments, sauces, dressings and rubs.Sheila got some of that recognition she so craved. The 25th anniversary of their book's publication was met with celebration and praise. They got inducted into the coveted Who's Who of Food and Beverage in America by the James Beard Foundation, and Sheila ended up as the food editor of Parade magazine, inserted weekly into millions of Sunday papers across the country.
The spirit of those times and the new ingredients they brought—arugula, pesto, sundried tomatoes, couscous, tiny French lentils, all sorts of olives with their original pits—is ever with us and under our belts in a way that post-adolescence, approaching adulthood hopes to achieve. There's affection and sentiment, amusement at our own folly and deep appreciation for the learning and sheer experience Sheila and her generation of food-loving pals simply loved to share.
Send a letter to the editor about this story.