September 27-October 3, 2006
home | north bay bohemian index | the arts | stage | review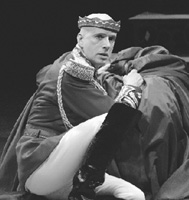 Photograph by Jenny Graham
Monarchial: King John (Michael Elich) is lost after learning of the death of his mother, Eleanor of Aquitaine.
Power Plays
Ashland's slate makes for a first-rate fall
By David Templeton
'Strong reasons make strange actions." So suggests a philosophical pretender to the English throne in Shakespeare's seldom-seen history play King John, a stunningly fitting work given the current state of world politics, which is now enjoying a rare and exquisitely staged run at the Oregon Shakespeare Festival in Ashland. That tasty little quote is uttered by Lewis, the son of the French King Philip, who, through obscure marital connections, has laid legal claim to the country of England. Lewis has good reason to take advantage of England's rising grief and outrage following a fresh and unspeakable tragedy committed on native soil.
Anchored by a powerhouse performance from Michael Elich as King John and an especially strong cast and a clever stage concept, the play--rarely performed because of its complexity and relative lack of action--is among the 2006 Oregon Shakespeare Festival's biggest surprises, playing to stunned and sold-out audiences.
As directed by John Sipes, King John is a complex socio-political snapshot of an inept ruler desperately trying to maintain his authority by waging an unjust war, and though it is seldom performed in America today, it contains some of the Bard's sharpest, wittiest, most quotable dialogue. It is not an easy play to stage, veering as it does from long scenes in which diplomats argue over the fates of England and France, to frighteningly tense bits such as when a young prince is sentenced to have his eyes burned out with a red-hot poker. So it is especially remarkable that Sipes has created a King John this edge-of-the-seat compelling.
That is the rule for this year's festival, still going strong as it approaches its final month. With the exception of a few disappointments--a visually lovely but emotionally lackluster Winter's Tale chief among the lesser-thans--this has been a season distinctive for strong actors giving towering performances in difficult plays, and visionary directors taking neglected plays and turning them on their ear.
Though many are surprised to hear it, the fall is an excellent time to make the trip to Ashland. The post-Labor Day season in Ashland is far less crowded and much easier to negotiate than in the summer. The air is crisp, the trees in Lithia Park are turning and the hotels and restaurants are easier to get reservations in than any other time of the year.
Though performed a bit more often than King John, Shakespeare's Two Gentlemen of Verona still rates as one of his least staged works. A comedy bearing a lot of the tell-tale Shakespeare signs (women disguised as men, bands of happy outlaws living in the wilds, improbably happy resolutions), OSF's entertaining new version, staged as a modern-dress, outdoor extravaganza is crammed with Amish villagers, croquet-playing aristocrats and Mohawked, Goth-tinged punkers.
The plot isn't much. Friends Valentine (Juan Rivera LeBron) and Proteus (Gregory Linington)--reinvented here as childhood Amish buddies--find themselves fighting for the attentions of the same upper-class damsel when they both head out into the world for a bit of rumspringa oat-sewing. Full of invention and deliriously fun to watch, the show is directed by new OSF artistic director Bill Rauch, following in the footsteps of outgoing AD Libby Appel. Watch for Eileen DeSandre's inspired turn as Amish chaperone Speed, who somehow turns her every line and stage action, including the way she sits down in a deck chair, into an enormous laugh.
David Edgar's psychologically dense adaptation of Dr. Jekyll and Mr. Hyde features another of the season's towering performances: James Newcomb (so good last year as Richard III) as Dr. Henry Jekyll and his murderously libertine alter ego Edward Hyde. True to the novel by Robert Louis Stevenson, this is not a story of a gentle man who turns into a lustful monster after drinking a magic potion, but the tale of a man who, perhaps using the "potion" as a placebo, gleefully unlocks the beast that was always within.
Beautifully staged on a set that features a shadowy Victorian London complete with fog and faintly glimmering lanterns, this is a show that highlights duality every chance it gets, from the piano duets that Jekyll plays to the two-faced spinning top he gives his niece as a toy. Kelly Curran, who started the season as Anne Frank in the now closed Diary of Anne Frank, is heartbreaking again as Jekyll's all-too-understanding maid, Annie Loder. Though packed with special effects and stage magic, the real special effect here is Newcomb, whose transformations from Jekyll to Hyde and back again--using no makeup--are nothing short of astonishing.
Continuing the theme of men compromised by nature, Edmond Rostand's Cyrano de Bergerac, directed by Laird Williamson using a highly accessible translation by Anthony Burgess, tells the story of Cyrano (the riveting Marco Barricelli), a poet and a soldier who cannot look past his own oversized nose to risk proclaiming his true feelings to Roxane, the woman he has always loved. Barricelli is a commanding presence, and his baritone voice, as Cyrano matches wits and trades insults with his enemies, is a thing of wonder.
This is a play about appearances, as much as King John is a play about public reputation and Jekyll is about inner identity, and Roxane, played well by Robin Goodrin Nordli, is a perfect counter to poor Cyrano; she too cares more about appearances and pretty words than she does about what really matters--until it's too late.
'King John' and 'Dr. Jekyll and Mr. Hyde,' both indoor shows, run through Oct. 29 and 28, respectively. 'The Winter's Tale' runs through Oct. 29. The outdoor shows, 'The Merry Wives of Windsor,' 'Cyrano de Bergerac' and 'The Two Gentlemen of Verona,' run through Oct. 6, 7 and 8, respectively. For tickets and information, visit www.orshakes.org.
Send a letter to the editor about this story.