09.28.11
home | north bay bohemian index | news | north bay | news blast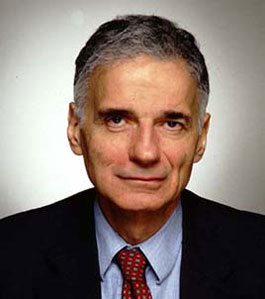 News Blast
By Leilani Clark
Spoiler Alert
If anyone has ideas for how to fix the economy, it's Ralph Nader. The author, consumer advocate and attorney speaks on that very topic when he appears at Sonoma State University this week. The title of his latest book, Only the Super-Rich Can Save Us!, may have people scratching their heads, but the four-time presidential candidate says that it's "not non-fiction"; Nader describes it as a practical utopia, "a fictional vision that could become a new reality." Hey, at least he's not doing the same old same old! A passionate advocate for the power of citizenry to propel the United States away from its current dystopic prospects, the Washington, D.C. resident is nothing if not solutions-oriented. Ralph Nader speaks on Tuesday, Oct. 4, at the Sonoma State University Cooperage. 1801 E. Cotati Ave., Rohnert Park. 7:30pm. $5-$10, free for students. 707.664.2382.
Chicken Little
Once upon a time in Santa Rosa, raising chickens was a necessary part of daily life. But now, zoning ordinances make it illegal for anyone not in a rural part of town (with less than 20,000 square feet of land) to set up their own mini backyard egg-production stations. Oakmont Senior Living LLC, of all entities, aims to change that with a recent zoning code amendment request that asks for the City of Santa Rosa's land use and animal keeping regulations to allow six hens per zoned planned development lot under 10,000 square feet. Not to worry about bleary-eyed, crow-filled dawns—roosters would be prohibited. The proposal won't be considered by the Planning Commission and City Council until 2012, but public comments are welcomed and encouraged until Oct. 20, 2011. Contact Senior Planner Erin Morris at 707.543.3273 or email [email protected]
Send a letter to the editor about this story.