09.30.09
home | north bay bohemian index | the arts | visual arts | review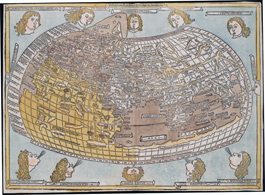 Between the Lines
SCM presents more of the Wendts' great maps
By Gretchen Giles
Henry Wendt's obsession began, as so many lifelong fascinations do, entirely by accident. In 1963, Wendt was a young pharmaceutical executive working briefly in Japan. Curious to better understand Tokyo, he wandered the city, eventually making his way to that part of town where antique booksellers are clustered. There, for just eight U.S. dollars, he found an ancient map depicting the Dutch East Indies as it was understood in the 1700s. "I went back to my hotel room," Wendt remembers, "and laid the map out on the floor. I got down on my hands and knees and looked at every detail. I couldn't believe that anyone could buy a 300-year-old map for $8—that it had all of this history to it. I started to prowl around to see what I could do."As Wendt has ably proven, eventually becoming the chairman and CEO of SmithKline Beckman, he can do quite a lot. But he'll have none of that. "It was," he says, "a treasure dropped out of the sky."
In 2004, North Bay museum-goers had a chance to see part of what Wendt and his wife, Holly, have collected since that first moment of kismet. Titled "Mapping the Pacific Coast," that initial cartographic exhibit at the Sonoma County Museum detailed the often fanciful imaginings man had when encountering the New World. The second installment, "Envisioning the World: The First Printed Maps 1472–1700" opens to the public at the SCM on Oct. 2 and focuses particularly on what happened to map-making and our understanding of our world with the advent of the printing press—like commercialization. "They plagiarized one another," Wendt declares with a laugh. "It was a commercial enterprise, if you could scoop the competition and come out with a map of the globe that showed features not seen before, then you could sell a lot of maps and raise your prices."Paired with a lavish catalogue, "Envisioning the World" particularly emphasizes man's centralist point of view as dictated by the church and even the fashions of the day. "This is an intellectual history, the gradual unfolding and understanding of the planet Earth and its relation to the sun, the nearby planets, the cosmos," Wendt explains. Wendt amuses himself by mapping "tricky entrances" along the Pacific Northwest coastline, so he understands what early cartographers were up against when trying to understand the enormity of Africa or North America. What fascinates him most, however, are the reasons behind the construction of certain maps. "Every map has a story," he says, "and a sequence of maps is a grand story.""Envisioning the World" opens to the public at the Sonoma County Museum on Friday, Oct. 2, from 5pm to 7pm, and shows through Jan. 17. 425 Seventh St., Santa Rosa. 707.579.1500.
Send a letter to the editor about this story.