10.05.11
home | north bay bohemian index | the arts | visual arts | review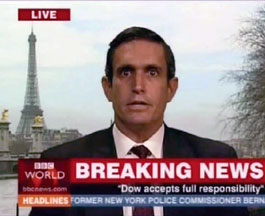 Photograph by Gabe Meline
Yes, Indeed!
The Yes Men's wild corporate punkery
By Leilani Clark
Anti-corporate pranksters the Yes Men, otherwise known as Mike Bonanno and Andy Bichlbaum, have been using direct-action performance as a way to wreak havoc on the corporate world since 1999, when Bonnano switched out the voice boxes of Barbie and G.I. Joe dolls and put them back on the shelves. Their elaborate gonzo hoaxes have ranged from publishing fake editions of the New York Times with the headline "Iraq War Ends" to impersonating a Dow Chemical spokesman on international TV to apologize and make reparations to victims of the deadly Bhopal chemical plant leak in India.
The Yes Men's successful attempts to "disrupt or subvert mainstream, consumerist institutions" were documented in the 2009 documentary The Yes Men Fix the World. This week, at a live talk properly titled "Creative Mischief Explosion," Bichlbaum will share tales of some of the 21st century's most famous direct-action hooligans. It's been argued—namely by corporations—that the Yes Men step too far with their shenanigans, but that's only because their monkey-wrench style of activism has made a fool of the corporate world over and over again. Andy Bichlbaum of the Yes Men, above, appears on Tuesday, Oct. 11, at the Sebastopol Masonic Temple. 373 North Main Street, Sebastopol. 7pm. $15–$20. 707.829.5792.
Send a letter to the editor about this story.