10.06.10
home | north bay bohemian index | music & nightlife | band review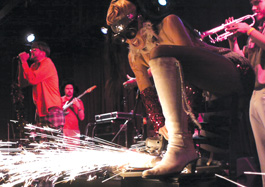 Photograph by Steve Aja
SPARKS SINGING OUT:
Brothers Horse bring the house down.
Award Tour
Winners of the 2010 NORBAYs revealed
By Gabe Meline
They led me to a chair and tied me up. They draped one pair of panties on my head. Then two. Then three. Blindfolded. An apple, shoved into my mouth. My chair, tilted on its back legs. A drum roll. What in the world is happening?
When the blindfold came off, a guy in sequined hot pants pulled the apple from my mouth. It was perfectly pierced by a sharp, wooden arrow. A go-go dancer named Svetlana commemorated the occasion by firing sparks into the air. The band, Brothers Horse, rollicked to a stop, and so ended the 2010 North Bay Music Awards.
For six years, we've been throwing parties to honor those bands and musicians in the North Bay who amass the most votes from you, the music-loving, show-going public, and each year the festivities get better. And weirder. Amid pleading for a NORBAY Award to go to Pukapuka, a fictional 12-member Anarcho-punk band from Vanuatu, Polynesia, presenter Matlock Zumsteg from the World's Biggest Comedy Duo keeled over onstage and promptly (and fictionally) died.
The incredible guitarist Kai Devitt-Lee kicked off the evening's live music with his jazz trio, making Antonio Carlos Jobim's "Wave" sound like something from Grant Green's Green Street. Goodriddler dazzled the crowd with his modern compositions of laptop, drums, ukulele and percussion, demonstrating why earlier this year NPR spotlighted his music. And Brothers Horse—well, let's just say it'll take the better part of a month before the brains affected by their unbridled mayhem will be able to think normally once again.
Zumsteg and fellow "You Belong to Me" crooner Melissa Gordon presented, as did Brian Griffith from the KRSH 95.9-FM, who had the misfortune of giving out awards when—whoops—the winners were nowhere to be found! Where were they? Stuck in traffic? Flirting with waitresses? Burning one out back? No matter what they were up to when their envelope was actually ripped, we're pleased to say that all nine winners were, in fact, in attendance to accept their gold record awards.
In the acceptance speeches, Truthlive thanked "all the amateur rappers for making me sound good"; Gio Benedetti from Brothers Comatose shouted out to the Phoenix Theater; and Mike "Unit X" Gutsch from the Aces noted that they'd been a band for over a decade before receiving their award, thus underscoring the long-overdue recognition that the NORBAYs are annually able to finally provide.
Thanks again to the Hopmonk for hosting, to DJ Noah D for agreeing to appear in exchange for a copy of Marlena Shaw's California Soul on LP, to all the fans who voted—there were over 2,500 votes this year—and who came out, and to the performers and presenters, but most of all, thanks to each and every one of the bands and musicians in the North Bay who provide a soundtrack to our area and give our lives pizzazz.
Without further ado, the nominees and winners:
Blues / R&B: the Aces, Levi Lloyd, the Linda Ferro Band, Mitch Woods & His Rocket 88s, Johnny Smith
Winner: the Aces
Country / Americana: Arann Harris and the Farm Band, Brothers Comatose, JD Bauman and the Boot Band, Quarter Mile Combo, Smokehouse Gamblers
Winner: Brothers Comatose
Dance / DJ: DJ Jacques, DJ Malarkey, DJ Mark 7, DJ Tecni, DJ Rob Cervantes
Winner: DJ Rob Cervantes
Folk / Acoustic: the Easy Leaves, Rose Logue, the Mighty Chiplings, Old Jawbone, Skiffle Symphony
Winner: Old Jawbone
Hip-Hop: Apt.3/DNA, Cavity, Eyezon, Tre Jones, Truthlive
Winner: Truthlive
Jazz: Chris Amberger, Dick Conte, Kai Devitt-Lee, George Marsh, Stephanie Ozer
Winner: Kai Devitt-Lee
Indie / Punk: Body or Brain, Low Five, Not to Reason Why, Goodriddler, Sabertooth Zombie
Winner: Not to Reason Why
Rock / Metal: Brothers Horse, Fishbear, Hillside Fire, LuvPlanet, Simoom
Winner: Fishbear
World / Reggae: Markus James, Onye Onyemaechi, Midnight Sun, PanGaia Art Ensemble, Sol Horizon
Winner: Sol Horizon
Send a letter to the editor about this story.