10.15.08
home | north bay bohemian index | sonoma, napa, marin county restaurants | review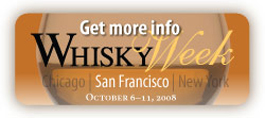 Whiskyfest
By Alastair Bland
  Alastair Bland  
An air of high sophistication filled the ballroom of the San Francisco Marriott on Friday, Oct. 10, as my brother-in-law and I bumbled about among echelons of society we had only read about in books by F. Scott Fitzgerald. Women wore pearly necklaces and dresses that reached the floor. Men with scarves about their necks looked somber until a passing busboy dropped a plate of chèvre and incited a sincere laugh. But this was not an anthropological fieldtrip; this was the second annual San Francisco Whiskyfest.
We decided to sample the oldest whiskeys in the house, which seemed a gentlemanly approach. We began at Duncan Taylor, where the suited rep was serving industry standard quarter-ounce pours of four whiskeys between 16 and 37 years of age. The 21-year-old bore a portlike aroma and, at 127 proof, seared the mouth. Tears streamed from our eyes, we choked, coughed and reeled, we clutched at the curtains to keep our balance, and we knew, surely, that this was excellent stuff.
I elbowed for a space at the table of Highland Park and managed a sample of the 12-year-old, then the 30-year stuff. A rube such as I who is firmly adjusted to softer spirits expects an 18-year difference in the age of two beverages to be brilliant and jolting. Alas, the thirty-something was merely a degree richer and a shade darker, more like a 20-year-old.
Much to our rapture, beer was served in the ballroom's southwest corner. There is a mantra I recall from college: "Liquor before beer, never fear," though my brother-in-law swore it was "Beer after liquor, never sicker." We took a gamble, and at the table of Quebec's Unibroue downed glass after glass of cool, soothing brew.   
By 8:30pm, all this whisky work had taken its toll. Our impressive initial questions ("How economically viable is it to cellar a whisky for decades for the slightly boosted price point?") had slumped into meager efforts to pronounce names like Bunnahabhain and Bruichladdich. We hoped merely to reach the dump bucket without knocking over a line of bottles. Yet neither of us had hangovers the next day, the best evidence I can offer that the whisky was excellent. But to fully appreciate the few top percentiles of quality that distinguish good whisky from bad certainly requires much more tasting, perhaps a scarf around the neck and certainly a lot more beer.
Send a letter to the editor about this story.