October 18-24, 2006
home | north bay bohemian index | the arts | books | profile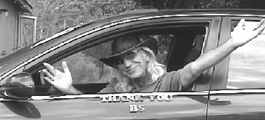 Engine of desire: Writer EJ Knapp enlisted the Backspace online community in an auction to regain his car.
Will Write for Wheels
EJ Knapp's novel adventure in stories
By Rebecca del Rio
Life without wheels for Detroit-born and -reared EJ Knapp is unthinkable. Life without wheels in a typical 21st-century American metropolis is untenable. The North Bay fiction writer supported his craft for 14 years working as the in-house techie for the California Appellate Project, but the daily 150-mile commute, attendant job stress and health problems brought an abrupt end to his career, landing him in alcohol rehab in the spring of 2005. With two finished novels, an agent, a healthy savings account and a house to sell, Knapp decided it was time to write full-time.
A year later, his savings depleted by a move to Albuquerque, N.M., his west Sonoma County house languishing in a listless market, the house payments months in arrears and his book without a publisher, he hit an economic and emotional wall. The bank repossessed his car, a 2002 Nissan Altima.
After his initial despair, Knapp hauled himself up and approached the online writers' support network, Backspace (www.bksp.org), of which he is a member. On Aug. 2, he wrote, "OK. This is a crazy idea. I've had what for me is a heavy blow. . . . So, in the very depth of my depression of wanting to roll over and give up, I came up with an idea. This is where the crazy part comes in."
To raise money, Knapp decided to do something novel, something that didn't involve an office or a job or an ad in the paper. He decided to make the $3,000 he needed to reclaim his car by selling stories. Fifteen hundred short stories to be exact, at $2 a piece and in just 25 days, before his car was sold by the bank. Needless to say, Knapp didn't have a backlog of 1,500 stories ready to sell. He needed help.
Within hours, Knapp had posted 20 short stories, 90 percent of them donated by Backspace members. In a few days, he had close to 75 stories and 10 original poems. The donated works included stories by Jon Clinch, author of Finn, a Random House 2007 lead title; Lambda finalist M. J. Pearson; poetry by Marin novelist Martha O'Connor; and contest-winning stories from the Backspace website in a variety of styles and genres. It was a smorgasbord of humbly priced offerings.
Hits to Knapp's blog "Only on Sunday," (www.ejknapp.com/OnlyonSunday) spiked up to 500 a day and sales started in earnest. Backspace members, belonging to other writer's groups and forums, spread the word, and writers in Europe and Asia, posted about Knapp's project. The story site showed a "thermometer" of sales that measured hourly changes as the $3,000 goal of came into view. In all, story sales brought in nearly $2,000. Knapp credits Backspace members with the majority of the buys. "New York Times bestseller Kay Hooper bought an entire offering," he says, reflecting the generosity of his cyber friends.
Three Backspace members auctioned off services to bump up the total on the thermometer. British writer, GUD Magazine editor and web designer Mike Coombes offered to build a website for the highest bidder, donating the money to Knapp's fundraiser. That project alone raised $800. Karen Dionne, thriller writer and founder of Backspace, donated the full sponsorship fees tendered for the Backspace 2007 Conference to Knapp, delivering $600 to get the car back in the driveway. Denver-based Kristen Nelson of the Nelson Literary Agency offered to read and comment on 30 pages of original content from the highest bidder. She raised $400.
"I'm such a private person that reaching out was incredibly difficult," Knapp says. Ashamed that he felt so devastated by having his car repossessed, he wrote, "Over a car. Can you believe that? I know why. I'm a Detroit boy. What's a Detroit boy without a car? Nothing. He's nothing at all."
Well, now he's something--a man with a world full of friends--only a handful of whom would be recognizable on sight. He's a writer with another book on the burner.
And--oh, yeah--he's also a man with an Altima in his driveway.
Send a letter to the editor about this story.