October 18-24, 2006
home | north bay bohemian index | sonoma, napa, marin county restaurants | essay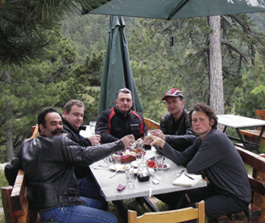 Photos courtesy Alastair Bland
Fond a Feta: The author, right, with friendly travelers and their feta cheese.
Mythic Journey
Using Homer's 'Odyssey' as a modern-day travel guide to Greece
By Alastair Bland
Millions regard Lonely Planet as the quintessential guidebook to international travel, but I prefer using local literature to navigate foreign lands. I have read John Steinbeck through California, Jack London through Alaska and Bill Bryson while hiking anywhere in the woods. This summer, I traveled for seven weeks by bicycle through Greece, and I used none other than Homer's Odyssey as my guide to the geography, cuisine, ecology and culture of this historical nation.
Odysseus, a handsome brute, is the hero of this bloody classic. Greedy and ravenous for wealth, he goes romping through the Mediterranean Sea in search of riches after his service in the Trojan War. Odysseus conquers islands, eats the cattle, kills the men and possesses the women. Homer has endowed Odysseus with a "teeming brain," yet the big Greek winds up in all sorts of trouble; his men perish like flies, he loses his way and he takes years to get home.
Homer's shipload of protagonists fared well on a diet of meat and wine, and to gain a true Greek experience, I followed a similar eating plan for about 20 days. However, this diet eroded my energy reserves, gave me stomach trouble and steadily drained me of vigor and happiness. Although most Greek restaurants proudly offer a few healthful options, like oil-sopped eggplant, white bread and fried vegetables, more often than not I felt sick and bloated after a meal. Tobacco is another staple of modern Greek nutrition, and twice in two weeks I found cigarette butts in my food. The gallant Odysseus would have flayed the chef with his axe for such sloppiness.
Feta cheese is perhaps the most illustrious of traditional Greek products. It comprises a good 60 percent or so of all national cheese types. I recall one blazing sunny afternoon in early June when I had lunch at a roadside tavern with several traveling motorcyclists in the northwest mountains of Zagoria. These large and agreeable men treated me to a party-sized platter of half a dozen cheeses.
"Half a dozen?" I thought when they first ordered the dish. "They must be imports from Western Europe." But they weren't. When the meal arrived, I observed that it consisted of feta, grilled feta, herbed feta, fried feta, oiled feta and a piece of local yellow cow cheese. To balance the meal, the waiter served us a sliced tomato, also doused in oil.
In Homer's time, luxurious lodging was readily available throughout Greece, as demonstrated in his narrative. Hardly a chapter passes in which the exhausted travelers do not wind up in a wonderful palace on the beach, where the maids bathe them and rub their aching torsos with extra virgin olive oil while the landlord slaughters several oxen and goats for the occasion. The maids then escort Odysseus and his crew to the dining hall, where abundant appetizers, or "dainties," have been arranged on the table amid several gallons of red wine.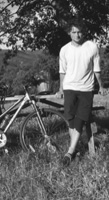 Homeric versus: The author heroically enduring Greece.
Times have changed, I suppose, for I never encountered such extravagant hospitality. In my 2,000-mile journey, which saw me through virtually all regions of Greece except for the Peloponnesian Peninsula in the south, I had to camp out most nights in the cold. There were only six occasions when friendly strangers invited me in for the night, and never did I see either maids or livestock on the premises. My hosts rarely drank wine, favoring instead ouzo and a moonshine version of this same liquor called chiparo. Moreover, they reserved olive oil solely for use in the kitchen, a disappointing revelation for me, as my torso and legs were always aching.
In the Odyssey, Homer uses the phrase "wine-dark sea" in three out of every four pages, and on the fourth page he calls the sea "fish-infested," to spark some variation. The only waters I saw in Greece were turquoise, and they were not fish-infested. I snorkeled frequently in the Aegean Sea. I found it starkly lacking in life, and never did I see a specimen larger than a trout. This unfortunate facet of the Mediterranean Sea is clearly reflected in Greek street markets, where local fishmongers stand behind their tables of sardines, anchovies and assorted fishes the size of a child's hand.
Unlike other more helpful travel guides, my Odyssey contained not a word of Greek. Thus, I learned the local talk largely through conversation. It was a challenge, this strange archaic language, for English has grown mostly from Latin and Germanic roots, and there are just several words that bear similarities to Greek: megala for big, neekto for night, beera for beer and supermarket for corner liquor store.
It was from one of those last, dimly lit holes, that I bought much of my food. In fact, after three weeks of dining out, I gave up on Greek cuisine all together and adopted instead a healthful diet of bananas, cantaloupes, dried figs, mulberries and almonds. If I felt short of protein, I bought feta, which supermarkets carried at around $2 per pound. On this fresh and raw diet, my body grew strong and lean, and became populated with beneficial stomach bugs and vital enzymes. I pedaled my baggage-burdened bicycle over the mountainous land, visiting such notable locations as Delphi, Meteora, the Corinth Canal and the northeast peninsula of Halkidiki. By week six, I was in far better physical condition than the average Greek citizen, who rides a motor scooter for exercise.
I also abstained from alcohol outside of social occasions, and on many an evening camped in a quiet alpine meadow or on a placid beach, my mouth watering as I read the Odyssey. How those men drank! They guzzled "mellow" wine, "sweet" wine, "mixed" wine and still more wine. When they grew thirsty, they drank wine; when their mouths were full of meat, they washed it down with wine; and upon setting off on a new sea or overland expedition, they filled their casks with yet more wine.
Mount Olympus is the pride and joy of Greece. While a thousand American peaks dwarf Olympus, in Greece it's the tallest hill they've got, skyrocketing out of the Aegean Sea to about the height of Mount Tamalpais. The citizens of this nation once believed that a group of superhumans lived in a big palace on the summit, way up high at 9,000 feet, top of the world. It was comfortable and warm up there because it's so close to the sun, which was drawn in circles around Greece all year by a couple of flying horses.
Homer and his contemporaries cooked up so much hype about this hill that I vaguely imagined spending a week exploring its lonesome slopes, sleeping in caves and sharing meals with kind goatherds and hermits. However, in the end it took me just a day and a half to circle its base and I saw no one but a few local village boys riding up and down the dirt roads on their intolerable motor scooters.
Like any group of rambunctious tourists, Odysseus visited numerous Greek islands. I visited several, too, but the names of them all seem to have changed in the years since Homer composed his tale. I found no mention of Lemnos, Lesbos or Chios--the three islands I explored--and the book helped me none in finding hospitable palaces or streams frequented by single nymphs.
I had a window seat on the flight home, and as we lifted up, I watched the surface of our planet slowly rotate southward. The miraculous speed of air travel quickly diminished the lands of the Odyssey and my own travels to a tiny spur of sun-beaten rock in the Mediterranean Sea. We passed over the Alps, the plains of northern France, off the western edge of the continent and over the great Atlantic. The lion-hearted Odysseus would have clubbed the flight crew to death for such a view of the earth, but I was tired. I ordered a flight-sized bottle of ouzo, pulled down the window shade on that wine-dark sea and finished the last chapter of the Odyssey.
Send a letter to the editor about this story.