October 18-24, 2006
home | north bay bohemian index | the arts | books | feature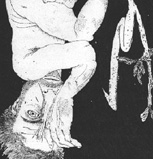 Drawn to it: Detail from 'An upsidedown Eight,' one of the works in Hamlet Mateo's 'Poemcomix' series.
Local Lit
Our traditional roundup of what the neighbors are doing
By Brett Ascarelli, Gretchen Giles and Patricia Lynn Henley
Way back in the day, my grandmother played in a mandolin orchestra in Brooklyn. I never could quite wrap my head around the concept--until now. Finally, when even Wikipedia has nothing on the subject, someone has taken it upon herself to explain what the heck a mandolin orchestra is!
Part personal memoir, part social history, 'Mandolins, Like Salami: Biographical Sketches of Twentieth Century Italian American Mandolinists, and a Social History of Mandolin Orchestras, and Ballo Liscio Repertoire in North Beach, San Francisco, and the Bay Area' (Zighi Baci Publishing; $27.95) is the first major literary contribution to the Italian-Californian musical traditions of the early 20th century. The title refers to an old tradition where barber shops, doubling as music studios, used to hang the instruments from their ceilings like dried ham hocks.
Relishing even the smallest details, Petaluma-based author and accordionist Sheri Mignano Crawford delves into mandolin culture, focusing in part on ballo liscio, or "smooth dancing" music. Intimate and stately, ballo liscio is descended from Viennese waltz and Polish mazurka, but found its new home on the West Coast in roughly 1910.
Crawford, whose ancestry is Sicilian and who played music with many of the book's characters, traces the arc of mandolin orchestras--where impressive numbers of musicians assembled to play the shapely instruments, along with balalaikas, mandolinettas and flutes. The orchestras' often sprightly music resembles the reedy voice of a harpsichord with woeful, old-world trills. Along with the rise of these "mando" orchestras came a whole subculture.
Crawford also includes a comprehensive swathe of appendices, from publishers' music catalogues to mandolin orchestra repertoire lists and even a list of what's in the public domain (for any of you indie film producers out there). Don't take our word for it, though. Even poet Lawrence Ferlinghetti approves!--B.A.
The magical ability of books to transform readers in time, place and personality is beautifully presented through the short, pleasing rhymes and bright colorful illustrations in the children's book 'Little Library Mouse: Even When You Are Little, You Can Imagine Big' (Brown Books; $16.95) by Sausalito author Stephanie Lisa Tara.
The story is told through what is essentially a series of short poems, each one- to two-page spread illustrated by Alex Brown's lovely artwork, both sweetly simple and engagingly detailed. When the library closes for the night, a little mouse slips out of his hole and leaps into a leading role in the stories of book after book.
"I'm skipping! I'm sliding! / Turn a page, step inside, / Books wait like miracles / Now come along for the ride," the mouse exclaims to his companions before experiencing life as a king, a queen, a clown, a juggler, a ladybug, a lion, a tiger and more, all through the enchantment of literature. This oversized picture book is perfect for hoisting a youngster or two into your lap and letting them follow along as you read. It's easy to imagine children repeating these clever rhymes or running their fingers over favorite details in the highly imaginative artwork.--P.L.H.
'Bluewater Gold Rush: The Odyssey of a California Sea Urchin Diver' (Azalea Creek Publishing; $16.95), by Sebastopol-based author Tom Kendrick, winds a plot as thick as fiction, but it happens to be the real deal. The autobiographical adventure traces Kendrick's exploits over the roughly 20-year period he spent hunting for sea urchins off the North Coast and the Farallon Islands. He began the dangerous work in the late 1970s as a way to earn money (the uniquely peach-colored and pudding-textured flesh of urchins' reproductive organs, or uni, is popular in Japanese and Korean sushi) and as a way to seek out new territory for surfing--his first love. Kendrick, a first-time author, has no reservations about taking us along for a perilous dive: before we've even reached chapter one, we read about the vicious shark attack that kills his friend and fellow diver, Weener.
Once Kendrick has caught us up in the deep-sea drama, he goes back to the beginning, recounting even his first embarrassing moment when his diving instructor surfaces, gasping, "You're sitting on my air hose!"
Kendrick's salty, surfer's voice plunges the depths of a profitable industry based on plucking up Poseidon's version of a porcupine for their gonads. Meanwhile, the divers keep their fingers crossed against carbon monoxide poisoning, shipwrecks and piracy. In a society that has a renewed interest in the forces governing our food, this book is a welcome addition.--B.A.
Old age doesn't have to be dull, at least not according to 'Better Than I Ever Expected: Straight Talk About Sex After Sixty' (Seal Press; $15.95), the lighthearted, titillating and informative new book by Sebastopol fitness professional, dance instructor and health writer Joan Price.
This isn't a stodgy or academically oriented self-help book; it's a bright, witty, let's-get-the-gals-together-and-just-gab look at keeping the home fires burning when some of the parts have shifted or sagged. It's inspiring. It's a bit arousing. And it's definitely worth reading, either by women who refuse to believe their senior years have to be asexual, or by men who want to understand what's happening in an older woman's mind and body, as well as what excites and satisfies her.
Price shares her personal experiences along with thoughts and anecdotes from a wide range of older women who revel in their sexuality. The book covers the challenges of post-menopausal love-making together with creative and loving solutions.
"There's nothing hotter than sex between people who know their own bodies, are crazy about each other, relish taking lots of time and honor sex as extremely spiritual and physical," writes Price. "I just don't think people can get there without a whole lot of life experience and a hefty dose of relationship mistakes along the way!" --P.L.H.
Meditative, disturbing, beautiful and utterly detached are West County artist Hamlet Mateo's series of 'Poemcomix' (www.poemcomix.net). In inking these experimental graphic novels, Mateo self-consciously denies conventions of setting, narrative and plot to instead make images, many of them frankly sexual, that associate with rather than inform one another. The newest in the series is Swimming on Concrete; other titles include The Bad Lung of Hercules, Adam on Sunday Without Electricity or Gas and Riotous Sums.--G.G.
It's the daily routines and small details that give punch, veracity and hope to 'A Woman's Initiation: Women's Experiences with Breast Cancer and How It Transformed Their Lives' (Synchronicity; $14.95) by Mill Valley author Diana Murphy. A licensed psychotherapist with 18 years of clinical experience, Murphy is also a skilled wordsmith who portrays the anguish and the small miracles in these stories of breast cancer survivors whose lives are altered by their experiences. She manages to capture the individual voices of 17 extremely diverse women as well as a man who lost his wife to the disease.
"Whether one is in reality 'healthy as a horse,' with a good 50 years ahead, or gravely ill with metastatic cancer hoping for five more, the message is the same: Life is a terminal illness and death is the ultimate outcome," Murphy states in her introduction. "Life-threatening illness hammers the point home."
The chapters are organized by themes- "Work Is Where the Heart Is," "It's All In the Family," "Cancer Made Me Grow Up," "No More Fun House Mirrors," "The Wounded Healers," "Putting Me First," "Finding God" and "The Holy Women." Each stand alone, but together they celebrate the human spirit and what Murphy calls "the primal feminine, which is both universal and unique."--P.L.H.
After writing stories for the Antioch Review and Salmagundi, publishing a story collection and getting nominated for the Pushcart Prize, Santa Rosa-based author Joan Frank has turned her pen to longer fiction. The fruits of her labor, 'Miss Kansas City: A Novel' (University of Michigan Press; $24), finally flowered last month, and the book has already taken the 2006 Michigan Literary Prize. Despite its midwestern ties, the book takes place in the Bay Area when "an ozone hole had been discovered, Africa was starving, stone-washed jeans the fashion." In other words, it's a period piece, and that period is 1984.
Infusing her tale with the hardened cynicism that goes hand-in-hand with that status quo, Frank begins her story with a romance. Alex, the blonde protagonist who bristles when people tell her she looks like Alice from Wonderland, works as editor for a tech company based in Sausalito. One day, while out shopping for sweaters, she meets a handsome, red-headed, leather-gloved successful entrepreneur named Gray. After he approves of the sweater she's tried on, he invites her to find a cup o' joe. It doesn't take long for Alex to fall in love, but as soon as she does, things begin to go seriously awry, and the plot thickens . . . --B.A.
Beloved Sebastopol painter Zak Zaikine has had one hell of a time of it lately, with household and physical disasters seemingly dogging him. Known for his whimsical portraits, paintings, sculptures and endless decorated surfaces as well as for his unflagging grasp of life's joys, Zaikine isn't one to let a crummy year or two get him down. Forced to take it easy, he instead created 'A Mother's Love' (Moon Valley; $22), a lavishly illustrated and bright children's book that recounts how Verushka the Queen reunited with her kittens. This is Zaikine's second book for the little ones; the first is The Magic of Hanalei Bay, set in Hawaii. More locally told, the story in A Mother's Love will be familiar to those children who are certain that their real parents are far more glamorous than the old sods currently supporting them. A comforting ending, which is exactly the right kind of an ending, assures that even kittens can have their cream and mother, too.--G.G.
Santa Rosa businessmen Chuck Mache offers better sales through tales in his latest book, 'The Four Kinds of Sales People: Your Personal Path to Breakthrough Achievement' (Elite Books, $15.95). Instead of the usual dry, step-by-step business book outline, Mache uses a creative narrative style to illustrate his belief that there are four types of sales people, each requiring a different path to "break through" to a higher level of success. Through engaging, well-written stories about Parker the Performer, Paula the Professional, Craig the Caretaker and Sarah the Searcher, Mache demonstrates the strengths and weaknesses of each one as well as the areas of personal insight required for these differing approaches to life and to sales.
The easy-reading stories all revolve around a gas station where each character interacts with the 80-year-old owner, Steve, who appears to have almost mystical insight into business, personality styles and life in general. The tone of the stories is somewhat light, but the message is clear: Know yourself, know your style and do what it takes to expand and develop your skills and abilities. The format lets Mache easily share the perceptions he's gained from 25 years of selling, managing, building and leading highly competitive sales organizations. --P.L.H.
Hardly dry, 'Sonoma County Wineries' (Arcadia Publishing; $19.99), written by Santa Rosa-based historian Gail Unzelman in conjunction with the Wine Library Associates of Sonoma County, turns to the oddball charm of vintage postcards to illustrate Sonoma's quirky wine history. Many of the postcards actually come from Unzelman's own stash, amassed over the past three decades.
The little volume opens showing the Sonoma Mission where Franciscan padre Jose Altimira planted 1,000 acres of grapes in roughly 1823, thus laying the groundwork for Northern California's wine industry. As this digestible, short history unfolds, it elicits one wow after another. It's got all the juice of Us magazine, but with the substance of a Ken Burns doc.
Unzelman's eye for curiosities lights upon the influential Italian-Swiss Colony winery (where the tasting room staff dressed up in Swiss miss garb) in Asti and the 25,000-gallon redwood wine tank that served as a tasting room for Montepulciano Winery in Healdsburg. And when San Francisco hosted the Panama-Pacific International Exposition in 1915, one impressed visitor wrote in calligraphic scrawl on the back of a postcard, "At one Wine Exhibit they had a fountain and instead of it spurting water it threw wine up in the air. You could smell it many feet away . . ."
Nevertheless, Unzelman also touches on the harsh realities of the industry, like the contributions of Chinese laborers who did the grunt work in the early days.--B.A.
Wisdom in plainspoken words is the heart of the 20th-anniversary edition of 'Straight with the Medicine: Narratives of Washoe Followers of the Tipi Way' (Heydey; $12.95) by Sonoma County resident Warren L. d'Azevedo, professor emeritus of anthropology at the University of Nevada, Reno.
These first-person stories were collected by d'Azevedo in the 1950s, through interviews with seven members of the Washoe Tribe and followers of the Native American Church, which uses the peyote cactus as a sacrament. Straight with the Medicine provides both mundane and ceremonial details from these men's lives and what they call the "Tipi Way."
"The most compelling of these narratives are of a search for a more meaningful life, for personal dignity and the rediscovery of the positive values of an Indian past which had been dimmed by a century of conquest and degradation," d'Azevedo explains in his introduction.
Thirteen stories were published in 1978 in 105 hand-printed books. That version was reproduced by Berkeley's Heydey Books in 1985.
This special anniversary edition has been redesigned and expanded to add 11 stories that were left out of the original publication because of the labor-intensive demands of hand-printing. The resulting 2006 volume is rich with echoes of the past and insights that still resonate today.--P.L.H.
Send a letter to the editor about this story.