October 18-24, 2006
home | north bay bohemian index | sonoma, napa, marin county restaurants | morsels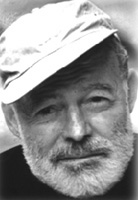 Morsels
A Moveable Drink
By Michael Alexander Schreiber
Just what was Hemingway drinking when he pulled the trigger? The name Ernest Hemingway probably evokes at least one of the following images: men boxing, men watching bull fights, men fishing, men in battle, men drinking in cafes. For more avid Hemingway readers, the last image may contain particular details, such as a man drinking a Pernod, a neat Scotch or a coffee. However, few, if any, would imagine Hemingway prissily sipping from a plastic bottle of water.
This will change. Coming soon to a grocery or convenience store near you is Ernest Hemingway One True Water, a new brand promising to be "pure water, free of additives" that is bottled straight from the rapidly diminishing "glaciers of Alaska." Even more absurd than suburban teens proudly sporting Che "Ernesto" Guevara on mass-market T-shirts, Papa is now on a plastic bottle of potable pap.
While it may not be illegal to appropriate cultural icons for marketing purposes, this is one of the more laughable examples in recent memory. Putting aside the inappropriateness of using Hemingway's name to perpetuate an unsustainable water delivery system, the brains behind this operation could of at least fashioned a better title. Why, for example, Alaska? At the very least, the bottles could contain a small portion of water from Mount Kilimanjaro—or is it all melted away?
As for the name, did marketers actually consider and reject "A Clean, Well-Filtered Sip," "The Waters Also Rise" or "A Moveable Drink"? And finally, Hem's moniker seems least apt for selling water in light of the fact that he drank more like a fish then he actually caught one. Why distilleries have yet to buy rights to his name is baffling. Who wouldn't put back a double "big two-hearted sour mash" on the rocks?
Hemingway might have only been trying to write "one good sentence," as is oft-repeated, but he was most keen on advising people to develop a "bullshit detector."
This water? Bullshit.
Send a letter to the editor about this story.