October 18-24, 2006
home | north bay bohemian index | movies | current reviews | talking pictures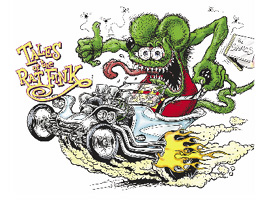 Dig that Krazy sound: Even if you don't give a rats about 'rods, the soundtrack is said to be supreme.
'Rat' Tales
Pin-stripe master Nat Quick takes a look at new Ed Roth doc
By David Templeton
'Ed Roth was not just an icon of the hot rod," says artist and pin-striping master Nat Quick. "Roth was, and still is, an icon of American ingenuity and creativity. He looked at something everyone else was looking at—the automobile—and he saw something different. Ed Roth did for the car what Andy Warhol did for cans of soup."
In fact the late Ed "Big Daddy" Roth was a legendary "kustom kar" pioneer whose life and accomplishments include the creation of several outrageous hot rods, the off-the-cuff invention of the airbrushed T-shirt and the gleefully grotesque Rat Fink cartoon character, all of which are vibrantly honored in Ron Mann's new illustrated documentary Tales of the Rat Fink, opening at the Rafael Film Center for a one-week run beginning Oct. 20.
Nat Quick began painting cars himself in Oklahoma in the 1960s, where he was known to hang out in drive-in parking lots with his paint kit, offering to do speedy pinstripe dash jobs for a quart of beer or a few bucks. Years later, he was painting hot rods for some of the best-known racers on the streets and tracks. In Los Angeles, where he established his own shop, Quick became known for his inventive airbrush style and his pin-striping accuracy. Any car that carried the recognizable Nat Quick signature was considered more than just a car with a cool paint job—it was a work of art.
Quick, who now lives in Petaluma, just finished watching Tales of the Rat Fink at his apartment studio. The space is crammed with the various accoutrements of the professional "pinhead": airbrush equipment and compressors; paint boxes crammed with pin-striping brushes; framed covers of car magazines bearing Quick's work. The walls are covered with Quick's latest works of art, superbly realistic oil paintings depicting real-life WW II aviation battles. These are his major artistic efforts these days, though he still occasionally takes on a pin-striping job if it seems interesting enough. Watching Rat Fink, however, has left him happily nostalgic for the days when every young guy's car was cool, and the heroes of the hot-rod world were the guys with the paints and the crazy ideas.
"Roth really was the first guy to ever airbrush an image on a T-shirt, and that is what got me started doing airbrush art," says Quick, who finally was introduced to Roth at a "brush meet," sort of like a convention for car artists, back in 1985. "I was so honored that he knew who I was. He'd heard of me back in the '60s. It was nice because, though I probably always would have become an artist, Ed Roth is the guy who inspired me to become an airbrush artist. Later on, it was Von Dutch [the pinstripe guru also mentioned in the movie] who inspired me to do pin-striping. These guys created this art form. They began a huge phenomenon that is still alive today."
One of the film's more fanciful touches is the way it shows classic hot rods from the '50s and '60s, including some of Roth's better-known creations, such as the Outsider and the Beatnik Bandit, and gives them voices, with people like Jay Leno, Ann-Margret, Matt Groening and the Smothers Brothers taking on the classic cars' personalities to tell pieces of the Ed Roth story.
"The one car the movie left out is the dragster Roth built," Quick points out. "It was named Yellow Fang. It was all triangles." He reaches over to his drawing table, pulls off a piece of paper and a pencil, and in 10 seconds produces a rough sketch of Yellow Fang. "It was driven by a guy who lived about a half-mile from my shop in L.A. He moved it in a glass-sided trailer with gold leaf trim. Yellow Fang was just something fun and bizarre among dragsters. Ed Roth was the master of bizarre."
Intriguingly, as the film points out, many of these fabled machines seldom had the chance to put any actual rubber to the road, and many couldn't have handled high speeds even if given the chance.
"A lot of these cars weren't really meant to race or even to drive much," says Quick. "They were created as pieces art. That's really all they were good for. But listen, in my book, being a piece of art, adored by generations—that's plenty enough."

'Tales of the Rat Fink' opens Friday, Oct. 20, at the Smith Rafael Film Center, 1118 Fourth St., San Rafael. 415.454.1222.
Send a letter to the editor about this story.