11.03.10
home | north bay bohemian index | the arts | visual arts | review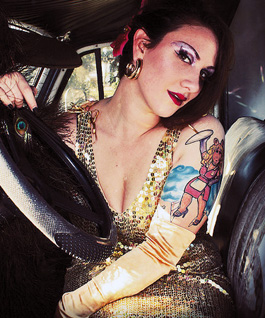 Photograph by Timothy Wells
VROOM VROOM:
Dottie Lux is among a new breed of modern burlesque stars transforming tradition.
Not Your Mother's Burlesque
Risk-A Cabaret bends boundaries in Sebastopol
By Aimee Drew
She takes the stage and begins to dance. The audience stares, transfixed, while she removes articles of clothing. As she finishes her dance with the last loincloth shed, the truth becomes apparent—she's a he! The crowd bursts into wild applause.
This is definitely not your mother's burlesque show. When Natalie Wood portrayed famed stripper Gypsy Rose Lee in the 1962 musical Gypsy and sang the words "Let me entertain you," could she have had any idea what form that entertainment would take today?
The world of pasties and platforms has definitely evolved over the years, and nowhere are the results of that evolution more evident than in the stage antics of the Risk-A Cabaret and its monthly burlesque shows.
"There are girls and boys of all shapes and sizes," says organizer Jodi Waseca, "drag queens and kings, musicians, clowns, aerialists, fire performers, sideshow acts—you name it, it's probably been on a modern-day burlesque stage."
Performer, choreographer and Jill-of-all-trades, Waseca organizes the monthly shows to embrace the variety and freedom modern-day burlesque allows. On Nov. 5, the Risk-A Cabaret arrives in full glittery fury at Sebastopol's Aubergine Café, with this month's theme riding on the cackling coattails of Halloween. San Francisco's queer burlesque dance troupe the Diamond Daggers present their gender-bending stylings, fire performer Max Ashley brings the heat and dancers Isis Starr, Dottie Lux, Paige Lawrence and belly-dance troupe Joweh round off the lineup, all set to the frantic beat of Gypsy-punk band Brothers Horse.
Lawrence's talents extend far beyond the anomaly of being a male belly dancer. The Bay Area—bred performer has a background in ballet and theater arts and several years spent in an industrial rock band. For Lawrence, a show commemorating the Day of the Dead is especially important.
"I have a love for Dia de los Muertos, and took up belly dance as a way to work through a grieving process," says Lawrence. "For me, Dia de los Muertos has become a positive way to remember the dead and to honor them." This weekend, Lawrence says, he'll perform a piece inspired by personal loss, which he hopes will bring a "dark honesty" to the show.
Some may assume a burlesque show is synonymous with striptease, but burlesque, both modern and classic, encompasses much more than just scantily clad women—or men. In fact, the burlesque show recalls classic vaudeville shows of yesteryear, incorporating elements of music and comedy along with the requisite striptease. The Risk-A Cabaret is no exception, filling its stages with diverse acts and talents.
"I like to think that the burlesque stages, at least in the Bay Area, are modern-day Vaudeville performances," says Waseca. "Don't get me wrong, stripping definitely plays a big part in burlesque. But it's not the whole picture."
Waseca was already heavily involved in the San Francisco burlesque and belly dance scene when she brought her considerable talent to Sonoma County. Risk-A Cabaret staged its first show in April of last year, and after the Day of the Dead-ly Halloween Hangover show, the Risk-A Cabaret will be performing one more show in December before going on a hiatus.
However limited the run of the Risk-A Cabaret may be, recent trends show that burlesque is here to stay, and for his part, Lawrence is excited to be part of the action. "Belly dance and burlesque are undergoing a strong and vital expansion," he says. "This is a really great show that underscores that."
Day of the Dead-ly Halloween Hangover with the Risk-A Cabaret lets it all hang out on Friday, Nov. 5, at Aubergine After Dark Cafe. 755 Petaluma Blvd., Sebastopol. 9pm. $5—$10. 707.861.9190.
Send a letter to the editor about this story.