11.04.09
home | north bay bohemian index | the arts | stage | review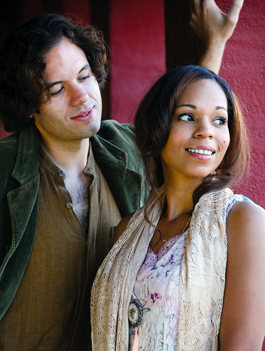 Photograph by Eric Chazankin
Grand Opera
Cinnabar Theater's spare 'La Bohème' is heartbreakingly good
By David Templeton
Puccini's La Bohème is one of those operas that means something even to people who have never seen it. Like Shakespeare's Romeo and Juliet, and the movie Gone with the Wind, enough details have seeped out into mainstream culture that even among those who've never attended a live opera you are likely to find several individuals who can tell you that, in La Bohème, someone named Mimi dies penniless in a garret—whatever that is.
The 113-year-old opera's status as a beloved masterpiece is more than a result of its beautiful music; there is something in the story of poor artists struggling to survive, falling in and out of love, defying social expectations and making one mistake after another that establishes La Bohème as particularly human and down-to-earth. When the poor seamstress Mimi finally dies in that garret, her artist lover Rodolfo sobbing at her side, her death may lack the epic grandeur of Wagner's Tristan und Isolde, or the poetic tragedy of the self-sacrificing Madame Butterfly; but in the end, it is La Bohème's lack of hugeness that makes it so moving, so identifiably human.
It has been several years since the Cinnabar Theater has tackled La Bohème. It's a shame, too, because it's is exactly the kind of opera at which Cinnabar excels. Directed by Elly Lichenstein, with musical direction from Nina Shuman, this new production benefits from strong lead performers, who can both sing beautifully and act with tremendous depth and emotional truth—not always a given, based on some of Cinnabar's less successful recent operatic efforts.
In four relatively short acts—staged fluidly with one intermission and a pair of brief "seventh inning stretches"—and employing an English translation by Donald Pippin, Lichenstein uses the smallness of the space to effective advantage. The graceful set by Scott Barringer changes from the spare poverty of the artists' meager apartment to a busy street-side cafe to the imposing gates of Paris and back to the apartment. It's in that garret where most of the drama takes place.
The Bohemians are represented by the foursome of Rodolfo, a poet, Marcello, a painter, Coline, a philosopher, and Schaunard, a musician. On Christmas Eve, as Rodolfo (played with puppy-dog sincerity by tenor Will Hart Meyer) prepares to burn his latest manuscript for heat, a series of events are set in place that will lead to his doomed romance with frail but large-hearted Mimi (superbly and sweetly played by soprano Leslie Sandefur), who knocks on Rodolfo's door to borrow a match, and ends up falling in love.
The story is told in scenes that resemble snapshots, with certain connective details left to the imagination, as the story compares and contrasts the love of Mimi and Rodolfo with Marcello's steamy-stormy affair with the singer Musetta. Performed with admirable range by soprano Julia Hathaway, her Musetta is a delight, as sly and adaptable as Mimi is guileless and true, with a spry voice that turns the beloved waltz "Quando Me n'vo" into a flirtatious call to arms when she sees her former love Marcello (passionately performed, with excellent comic touches, by baritone Todd Donovan) celebrating—and spending—the rare paycheck of musician Schaunard (baritone Eugene Walden).
The early scenes of youthful love, friendship and petty larceny—the Bohemians' solution to a larger-than-expected cafe bill is especially funny—eventually give way to tragedy, as Mimi's illness becomes apparent, and each make their own sacrifices to save her. For penniless Rodolfo, his plan is to break Mimi's heart so that she will leave him for a suitor with more money. When Mimi returns to the garret, in grave condition, the philosopher Colline (bass William O'Neill) decides to sell his beloved overcoat to buy medicine for her, and it is a testament to O'Neill's skill that his farewell song to the coat is so genuinely moving.
The final act, which ends the way all great operas must—with a truly excruciating death scene—is played with such tenderness and calm beauty that even the hardest of hearts will surely feel something give way deep down. That after all, is what great operas do, and what this lovely La Bohème does better than most.
'La Bohème' runs through Nov. 21. Wednesday at 7:30pm; Friday–Saturday at 8pm; Sunday, Nov. 15, at 3pm. Cinnabar Theater, 3333 Petaluma Blvd. N., Petaluma. $32–$38. 707.763.8920.
Send a letter to the editor about this story.