November 15-21, 2006
home | north bay bohemian index | sonoma, napa, marin county restaurants | profile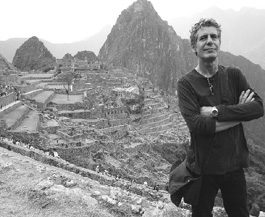 Photograph by Tracey Gudwin
Top of the world: Luckily for us, Anthony Bourdain does exactly as he pleases.
Reservation: Saturday, 8am
Anthony Bourdain on politics, principles, personality and the plague of the Cinnabon
By Brett Ascarelli
A few nights ago, my roommates, my boyfriend and I were all hanging out in our living room. The roomies had just started plowing into their burritos when my boyfriend, in what could be a contentious move, switched on the TV. The screen filled with Anthony Bourdain, celebrity chef of Brasserie Les Halles, author of Kitchen Confidential and TV host. Bourdain, the star of the Travel Channel's popular food/culture program No Reservations, was taking South Korea by culinary storm with his young, beautiful Korean-American producer, Nari Kye. Luckily, the roomies were totally enthralled.
Racing through a packed itinerary that ranged from eating a still-wriggling octopus at a fish market for breakfast to making kimchi and doing tae kwon do, Bourdain and his sidekick mesmerized all four of us.
But when the chef, hugging a large stuffed animal and chugging beers in a karaoke lounge, refused to take the stage, one roommate complained, "The girl is cool, but the guy needs to lighten up."
Over the sound of Kye's bellowing, I protested. Everybody's got their principles, right? Even though Bourdain is a chef, and chefs stereotypically belong to a hot-tempered lot, he's sensitive. And even though he's sensitive, he's cool. Bourdain's appeal depends on mixing these ingredients in just the right proportions. He's pessimistic, he's enigmatic and he's unhappy, sure. But he almost always gets won over in the end, albeit begrudgingly. As soon as he's convinced you that he's miserable and tortured, the ruse is up. It's a game, but when it works, it's sexy. It's a flirtation.
At 50, Bourdain is forever young, sporting an earring and a thumb ring and a leather jacket. Literally and often figuratively smoking onscreen, he's the equivalent of an American Serge Gainsbourg.
The day after watching him on TV with my roommates, kismet strikes. Bourdain is coming to Sonoma on Nov. 21. A prolific writer of both crime novels and nonfiction, this time he's contributed to a collaboratively written book, How I Learned to Cook: Culinary Educations from the World's Greatest Chefs (Bloombsury; $24.95). Interviewing Bourdain is a coveted prize (a coworker volunteers to humbly hold the lucky reporter's notebook during the interview), and apologizing for the early morning call on a Saturday, his publicist tells me that "Tony" will be expecting my call at 8am Pacific time. The anticipation feels a little like calling a high school crush. This is the bad boy of cooking, after all. But I want to find out what the real Bourdain is like.
The phone rings two or three times, then I hear his baritone voice, now familiar from having watched two episodes of No Reservations.
On the road about 10 months out of the year, Bourdain has a rare moment of relaxing at home. Recently, he moved from Hell's Kitchen in New York City to what he calls "an undisclosed, Cheney-like location," presumably still in New York.
Bourdain is like a guy I knew in college who aspired to drown himself in Scotch and be a dirty old man, but was cooler than 90 percent of the other guys, who were holding one another upside down to get a better angle at the keg. This guy smoked unfiltered French cigarettes and, just on principle, scorned anything having to do with Germany, New England or the bourgeoisie. You didn't have to agree with him, though, on these matters. He was always delighted to engage, as long as he won the argument.
Bourdain is the grown-up version of that college guy: semi-reformed but still, thank God, ardently principled, because these tenets are what make his TV personality so unpredictable and volatile. It keeps us on our toes, because we understand that a war over principles can break out at any moment.
Although Bourdain doesn't preach politics in the traditional sense of the word (he abhors it when celebrities use their status to comment on politics, saying that they're too far-removed from the lives of ordinary people to add anything relevant to political discourse), his principles give some clues.
Other than ABBA, whom Bourdain has already reviled on No Reservations' tour of Sweden, what are five other things Bourdain dismisses on principle?
"Glorified mediocrity, like The Simple Life, which drives me insane with rage. Andrew Lloyd Weber. Bad, soulless action films where you don't care what happens to either the good guys or the bad guys--like Mission Impossible III," he lists, stopping to ask what number we're up to.
Three.
"Really bad newscasters who report non-news. And any generic chain restaurant that has institutionalized low expectations." Then he hits on the thing that pisses him off most in this exercise. "Fake Italian food! It's such a sin to do that wrong. You've almost got to work harder to ruin it," he says.
For a mini-mogul, Bourdain espouses some pretty blue-collar tastes in terms of his daily diet. For breakfast on this day, he had coffee and a cigarette, which he always has.
And he avoids the dread Cinnabon like the plague. "It's dismaying to see people with no necks in an airport at seven in the morning eating things bigger than their heads," he spits. "It does not give one hope for the future of the world."
Bourdain is excited about what he sees as a movement on the part of chefs to go back to more "humble ingredients," like necks and brains--meats that have generally been associated more with peasant food--and using the entire animal. "Steak and lobster bore the hell out of me," Bourdain says. "It's no accident that [alternative cuts] are what chefs crave. You want to see a chef fall asleep midsentence? Hand him a filet."
Does he see a disconnect between foodie culture, celebrity chefs and world hunger? "Yeah, no question about it. But there's a disconnect between who's cooking and who's eating. Chefs worldwide have traditionally come from fairly poor upbringings," he says. "So much of the restaurant industry is built on the backs of poor Mexicans and Salvadoran cooks. In a sense, that's who's been cooking since the beginning of the craft.
"We're in the service industry," he continues. "Like maids, prostitutes and artisans, we serve at the pleasure of the rich."
Bourdain revels in being a daredevil, having once eaten a still-beating cobra heart on one of his travel shows. But does he have any limits?
"I'm not eating rat under any circumstances. I've just had too many bad experiences with rats living in New York." He pauses. "Live monkey brain--absolutely not. I've come close. But I just try to make sure they're never offered." As an afterthought, he adds Chicken McNuggets to the list.
Finally, is there a difference between the TV Tony and the real-life Tony?
"That is the great luxury of my job and my position," he explains. "I wrote Kitchen Confidential first." (The book, told from Bourdain's frank perspective, is a no-holds-barred account of the restaurant industry.) "When they ran my show on Food Network, then on the Travel Channel, nobody expected me to suddenly morph into Tyler Florence. Everyone knew I was a rude bastard. I make the show with close friends, and it's like we're Spinal Tap on tour. There's no script, no hair and makeup, no lighting. It's scoot-and-shoot guerrilla filmmaking. If I couldn't make the choices and say what I want to say, I wouldn't do it. I'd rather work a salad bar somewhere."
In other words, Bourdain acts on his own terms, or not at all. The guy really does seem to have integrity, at least over the phone.
I won't know for sure until I meet him on Tuesday.
Anthony Bourdain arrives in the wilds of Sonoma on Tuesday, Nov. 21, to talk about 'How I Learned to Cook: Culinary Educations from the World's Greatest Chefs,' a collaborative project that he contributed to along with Gary Danko, Ferran Adria, Mario Batali, Eric Ripert and other notables. The presentation, organized and sponsored by Readers' Books, takes place at Andrews Hall, 276 E. Napa St., Sonoma. 7:30pm. $5 donation benefits the Sonoma Community Center. 707.939.1799.
Send a letter to the editor about this story.