November 15-21, 2006
home | north bay bohemian index | movies | current reviews | film review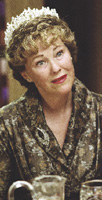 Cheeser: Guest's mockumentary ensemble regular Catherine O'Hara steals the show.
Oscar Wieners
Guest's newest mockumentary deserves 'Consideration'
By Richard von Busack
Among Catherine O'Hara's many acting specialties is "the cheeser," meaning an out-of-control, foaming and usually inebriated woman. (The term is from Dave Thomas' history of the priceless, the berserk, the never-to-be-forgotten SCTV.)
Nobody talks about desert-island comedy moments, but for your consideration: O'Hara's cheeser Lola Heatherton on SCTV, an over-amphetamined chanteuse having a titanic moment of self-revelation in front of her audience. The number is shot in the then-fashionable mode of two video cameras, so that different sides of her melting-down face dissolve into one another. We get double views of a madwoman singer, cawing, twinkle-eyed from Dexamyl. "Miss Lola" assays a song called "You're All Just Parasites (Draining Me of Love)."
The song has a musical resemblance to Carly Simon's dreaded "That's the Way I Always Heard It Should Be," except that instead of describing the way the singer's parents failed her poor sensitive self, "You're All Just Parasites" is about the pitfalls of celebrity: "You buy and sell my autograph / But in your face, I hear a laugh / It's like someone hit me with a kid glove."
Thirty years later, O'Hara has just about topped this essential comedy moment. Her meltdown in Christopher Guest's newest improvisational mockumentary, For Your Consideration, takes place in front of the camera of a show very much like Entertainment Tonight. Its host, the irreplaceable boob Fred Willard, intrudes on an actress named Marilyn Hack (O'Hara) in her modest driveway, and finds her shitfaced at 7am, hauling her empty liquor bottles to the trash. Willard is coiffed in what he has describes as a "faux hawk": a do supposedly stolen from soccer star Beckham, which actually looks like the weird coif of Belgian cartoon legend Tintin.
O'Hara's Hack, hideously disfigured from Botox, goes from slow-burn to alcoholic Krakatoa--but it's all preliminary to her wonderful, and even more humiliating finale, the "But seriously, folks" bit afterwards, in which Hack is teaching her students career-murdering crap-acting techniques she picked up from the ancient Bette Davis movie Jezebel.
For Your Consideration's plot is simple. The can-do spirit of the cast and crew of a lousy Sunfish (i.e., Sundance) independent film provisionally titled Home for Purim is squashed by rivalry when they get dangerously Oscar-buzzed by the rumor-mill on the Internet. The media, which range from ignorant to contemptuous, sow acres of discord. The first hour leaves the serious film fan draped with melancholy, knowing smiles; it's the last half hour where the magic comes in, and then you mutter, "Not since Preston Sturges . . ."
What an ensemble! Who does better cows than Jennifer Coolidge? The woman must be part Holstein. The excerpts of Parker Posey's cabaret piece "No Penis Intended" is a hundred nights of shuddery, crypto-feminist little-theater rolled into one; co-writer Eugene Levy, sniffing the scent of spoiled cream cheese on a free bagel, is like an 800-page treatise on the perfidy of agents. Bob Balaban, waiting sadly for the crush to come, like a hamster in the fist of a debauched little boy--well, he can be none other than a scribbler. (The press notes claim Balaban's character's was "co-writer in residence at Staten Island's Coleman Community College.")
But the focus is small, let's admit it.
For Your Consideration blasts entertainment reporters who praise just one particular aspect of a tiny indie film. And from what I've written above, it would seem Guest's comedy doesn't work as a cautionary tale.

'For Your Consideration' opens on Wednesday, Nov. 22, at the Rialto Cinemas Lakeside, 551 Summerfield Road, Santa Rosa. 707.525.4840.
Send a letter to the editor about this story.