November 15-21, 2006
home | north bay bohemian index | movies | current reviews | preview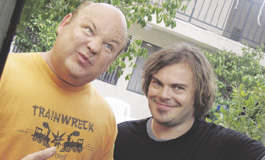 Total Commitment: The D add a super heaping helping of rocking tasty sauce.
Poised for 'Destiny'
The main thing Tenacious D do is rock your socks off
By Steve Palopoli
The Tenacious D movie, Tenacious D in the Pick of Destiny, is coming out next Wednesday, to which fans can only say . . . finally, jeesh! The cult of the D is a strange one. Having come together in 1994, Tenacious D were pretty much entirely an L.A. thing for the first five years or so of their existence. Then, after appearing on Mr. Show, they got some attention for their own self-titled HBO show in 1999, and even more for their self-titled album in 2001.
I was living in L.A. in this brief era of their productivity peak and saw their shows get bigger and bigger. But what's bizarre is that they didn't truly blow up until they stopped producing almost anything at all. In the five years since that record, Jack Black's been making movies, Kyle Gass has been doing his side project Trainwreck, and despite fan impatience over a promised second album and the movie, the D are huge.
I was watching ESPN's SportsCenter a few months back and the guy narrating over the NBA highlights actually said, "How about the power of flight? That do anything for you?" I thought, "Did I just hear a line from 'Wonderboy'? Not possible." Then three minutes later he said, "That's levitation, Holmes!" It was true; the D were getting quoted on fucking SportsCenter! (Jables and Kage probably dug it, though--supposedly they took their name from Marv Albert's exclamation, "That's some tenacious D!")
Now that the movie has finally arrived, their HBO show deserves a second look. If you haven't seen these episodes--tragically, there were only six--you should go directly to their DVD The Complete Masterworks to experience them for yourself. The joke of the TV show was never that the D failed to measure up to their dreams of rocking tasty sauce. The joke was that they were so committed to rocking that they would do it anywhere, even in front of an open-mic-night crowd. To quote their unofficial theme: "We know it's open-mic, we don't care / Tenacious D--we reign!"
The six 15-minute episodes of their HBO series spotlighted the D's ability to send up rock's most absurd clichés at the same time that they indulge them. The opening episode, "Inspirato," follows their hopeless effort to write one song in a week. Instead of actually sitting down and doing it, they run naked through nature, splash in a wading pool and stare blankly into space. Finally, one of Jack's incomparable tantrums leads Kyle to quit the band, inspiring the song "Kyle Quit the Band." The D write what they know.
The best example of the D's funhouse-mirror-of-rock paradigm is the episode "The Fan," in which Jack and Kyle meet a fan named Lee after a show, and treat him like a "stalkerazzi." Within 20 minutes, however, the poor guy finds himself being stalked by the D, who are so out of their minds to have a devoted fan that they call him constantly, smash through his window when they're worried about him and follow him around singing their tribute song to him, "Lee."
Seven years later, the D have thousands of fans who are dying to see the new movie (directed by Liam Lynch, who did Sarah Silverman's Jesus Is Magic, as well as videos and short films for Tenacious D). And why not--this is a band that can kill a yak from 200 yards away--with mind bullets! (That's telekinesis, Kyle.)
But I'll tell you one thing: if that SportsCenter suit starts quoting "Fuck Her Gently," I'm outta here.
Send a letter to the editor about this story.