November 15-21, 2006
home | north bay bohemian index | music & nightlife | review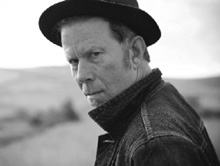 Photograph by Michael O'Brien
Fearless: Waits' active curiosity shows no sign of abating.
Essential Genius
Tom Waits' three-disc 'Orphans' presages a strange and beautiful future
By Gabe Meline
Around these parts, tales of Tom Waits sightings are exchanged among diehards like late-night cigarettes shared outside of bars: they link our outcast fringe through a shared, communal addiction. In the last year, I've seen Tom Waits strolling arm in arm with his wife and collaborator Kathleen Brennan down a misty, nighttime, downtown Santa Rosa street; I've spotted him barreling several miles over the speed limit outside of Sebastopol; and I've run into him at a local record store, the both of us eyeing a newly issued retrospective box set by the gifted and mysterious late saxophonist Albert Ayler.
"When you die, they give you a box," Waits told me, resignedly looking over the deluxe carved wood of the box set as if it were a coffin. "Everyone," he murmured, "gets a box."
Like many of Waits' quips, it was a clever aside that also conveyed a truth; namely, that an unwieldy, oversized retrospective box set often has the depressing effect of eulogizing rather than celebrating its subject. Waits knows this. That's why Orphans: Brawlers, Bawlers & Bastards, Waits' first box set, to be released Nov. 21, is anything but the cumbersome, thrown-together anthology of his well-known work that you'd expect from a record company in the market-frenzied fourth quarter. Rather, it's an absolutely essential addition to any Waits collection.
Wait--strike that. It's essential to any collection. Period.
Waits himself is refreshingly nonchalant about Orphans. "A lot of songs that fell behind the stove while making dinner" sums up his modest assessment. This probably explains the decision to limit the scope of both packaging and quantity: Orphans comes as a simple, regular-sized 94-page, hardbound book with three thin slipcases for the CDs, and is limited at press time to a scant 50,000 copies, ensuring that it will swiftly disappear.
Most exciting, however, is that instead of the simple career retrospective, Waits has culled not only a handful of rare B-sides, soundtrack contributions, tribute-album tracks and songs written for other performers; he's also given us 30 brand-new, never-heard-before recordings ("Things I recorded in the garage with the kids," he says), and it is a pleasure to report that they're outstanding.
Among the finer moments of the three-CD set is "You Can Never Hold Back Spring," a sentimental ballad from the Bawlers disc ostensibly about the changing of the seasons. With an unconventional song structure, minimalist piano-bass-horn accompaniment and consonants elongated in an enchanting vibrato, it lilts beautifully toward rebirth.
In fact, most of Orphans' standouts appear on the Bawlers disc, particularly "World Keeps Turning," with its themes of borrowed rings and all-night dancing; "Down There by the Train," loaned to Johnny Cash for his immortal American Recordings album; and a wistful rendering of "Young at Heart," the first time Waits has tackled a song linked with Frank Sinatra.
Bawlers also contains "Never Let Go," exemplifying Waits' knack for turning what would ordinarily be a tender ballad in anyone else's hands into a throaty, wild romp. The tempo is slow, the lyrics are sweet, but his inimitable from-the-gut delivery is pure abandon. By the time a snare roll sneaks in, with a band playing catch-up, we're left to wonder why Waits bothers with the clamor of brake drums and electric blues guitar riffs; even set against the most fragile backdrop, Waits has a formidable brawler deep inside his own lungs.
Take, for example, "Bottom of the World," once again a likely ballad were it not for Waits' rollicking demeanor as he unreels in classic fashion. "I'm handcuffed to the bishop in the barbershop line," his protagonist howls, bemoaning the consequences of leaving home and never looking back, "and I'm lost at the bottom of the world." This is familiar territory for Waits, and the song contains elements of the past: the fatherly advice of "One Lucky Day," the teenage runaway of "A Little Rain," the homeless desperation of "Cold Water" and a chorus lifted from Dylan's "A Hard Rain's a-Gonna Fall." Yet like so many other themes that Waits has returned to, he still makes the song sound fresh and unearthed.
Brawlers is almost exclusively based in the blues, a touch that Waits' music has long toyed with but recently embraced full-bore. A number of its tracks hail from Wicked Grin, his excellent 2000 collaboration with John Hammond, among them "Fish in the Jailhouse," "Lord I've Been Changed" and "2:19." Like most of his songs written for other artists, Waits' original versions here shine a new light on Wicked Grin's safe, palatable interpretations. The exception is "Buzz Fledderjohn," which Hammond thoughtfully left untouched, and after hearing the warm, atmospheric recording included here, it's easy to see why.
Tucked amid the chugging blues of Brawlers--kicked off by the crazed Elvis impersonation "Lie to Me"--is "Road to Peace," a curious song unlike anything Waits has ever attempted before. At seven minutes, it's both a lengthy and lofty comment on fundamentalist killing in the Middle East, often reading more like an unrhyming newscast than a song: "They found his toddler's bottle and a pair of small shoes and they waved them in front of the cameras / But Israel says they did not know that his wife and child were in the car."
It's a litany that comes close to succeeding; perhaps Waits is just as angry as the rest of us, and has no patience for penning powerful poetry. If nothing else, "Peace" reminds us just how good Waits has been in commentary mode of late, in particular his overlooked antiwar masterpiece "Day After Tomorrow," from his 2004 album Real Gone, or the beautifully chilling "The Fall of Troy," from the film Dead Man Walking.
Soundtrack contributions familiar to Waits' devotees abound throughout the set, including "Long Way Home" and "Jayne's Blue Wish" from Big Bad Love, "Bend Down the Branches" from Bunny, "Little Drop of Poison" from The End of Violence, "It's Over" from Liberty Heights, "Take Care of All My Children" from Streetwise and "Sea of Love," a minor-key reworking of the Phil Phillips and the Twilights' classic. Sadly absent are Waits' contributions to the 1978 Sylvester Stallone film Paradise Alley, but most of Orphans' tracks are notably pulled only from the last 20 years.
"Heigh Ho" and "What Keeps Mankind Alive" hail from 1980s compilations produced by the great Hal Willner, the father of the modern tribute album, and they set the tone for the outré Bastards disc. A collection of stories, avant-garde accompaniments, unhinged beat-boxing and other vocal experiments, Bastards may well be the disc that bears the least repeated listens of the three. But it also contains plenty of gems, such as the instrumental "Redrum," which sounds eerily like a mosquito buzzing around an engine room, and "Home I'll Never Be," a traveling ode written by Jack Kerouac and performed tenderly by Waits at an Allen Ginsberg memorial.
Nestled among the oddities on Bastards are two spoken-word slices of Waits' impeccable imagery: "Nirvana" captures precisely the awe and wonder of roadside America, while "First Kiss" is a descriptive, Burroughs-esque meandering about a woman who "collected bones of all kinds / And she lived in a trailer under the bridge / And made her own whiskey and gave cigarettes to kids / And she'd been struck by lightning seven or eight times . . . And she gave me my very first kiss." It's trademark Waits, emceeing a gypsy circus band looped backwards, reminiscent of "What's He Building in There?" from 1999's Mule Variations. At song's end, we hear him strolling away from the microphone and, in a nod to his wife, crooning happily: "Talk about my little Kathleen / She's just a fine young thing . . ."
Most importantly, Bastards reminds us that Waits is still pushing his boundaries, forging fearlessly into new realms with the same creative fervor that brought such classics as Swordfishtrombones and The Black Rider. Had the Waits of the 1970s stayed in his comfort zone, he'd have burned out long ago in a clichéd haze of boozy balladry. His active curiosity shows no signs of abating, and consequently, neither does ours as fans.
Orphans is a far cry from a coffin for Tom Waits--for his career or otherwise. Its contents are the outpourings of a sprawling, creative mind and a full, complex heart, both of which are brilliantly alive. Expansive and prolific, it is a powerful midlife testament from one of the world's greatest geniuses, and it heralds a strange and beautiful future for us all.
Send a letter to the editor about this story.