11.16.11
home | north bay bohemian index | sonoma, napa, marin county restaurants | preview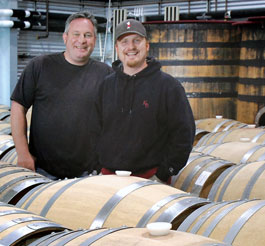 Photograph by Alma Shaw
IN THE CHATEAU:
Michael Browne and Shane Finley at Kosta Browne, with no tasting room and a long waiting list.
Pinot Divino
Kosta Browne, set to move in Sebastopol, play their cards close to their chest
By James Knight
Please tell me someone still has a bottle of 2007 Sonoma Coast Pinot Noir," the message board reads. "I am in dire need of one bottle. Who has it, and what is it going to cost me??????"
Few wineries can hope to inspire the kind of hysterical consumer desire manifest in this typical internet message-board plea. Fewer still elicit the strong aroma of sour grapes evident in another post, in which a chagrined consumer predicts, "In a year, the KB thing will be played out."
But such predictions for "the KB thing" are so 2008. Three years on, Pinot prodigy Kosta Browne is going stronger than ever. "Welcome to our chateau," says public-relations director Tony Lombardi at the roll-up door to a nondescript old apple warehouse. The only luxuries here are an espresso machine and two beer taps in the break area. "We've got Racer 5 on tap—always—and I think we have something lighter now, too," says winery cofounder Michael Browne.
If you remember the attention-getting headline "$40 million deal for Kosta Browne," you might be surprised to find Browne still hanging around.
"People think we sold the winery," Browne explains. "We didn't." Some initial investors, mostly friends and family, wanted to cash out—and besides, Browne says, he "was tired of eating Top Ramen." So Browne and Kosta gave up a portion of their 50 percent stake to investment firm Vincraft but got to keep their day jobs. (Kosta last week was in New Orleans, working restaurant accounts.)
While working at John Ash & Co., as the now often-told story goes, the two seasoned restaurant workers pooled their tip money to make a barrel of Pinot Noir in a garage. "In 1997, I didn't know anything except that the vineyard looks pretty and the grapes taste good," Browne admits. He volunteered at Deerfield Ranch Winery to learn the craft hands-on, and the partners launched the brand in 2000, hitting their stride just as Pinot took off in 2005. "We got lucky," says Browne.
Seeking further explanation for the runaway popularity of Kosta Browne wines, some naysayers have suggested that they're made in a sweet "fruit bomb" style that panders to American tastes. Browne allows that some earlier vintages—albeit, the ones that garnered Wine Spectator scores in the high 90s and helped propel the winery's popularity—were a little riper, a little hotter, but he adds that they've dialed it down since then.
About the flavors he seeks, Browne draws a heavy metal analogy: "It's like Metallica. When you hear Metallica, it's a big sound, but a smooth sound; everything harmonizes. When other bands try to do it, it's just jarring."
Pointing to a richly hued pour, Browne says, "Look at that color. People think you've got to work the grape to get that color. I've heard all kinds of stories. People say, 'They've got to be jacking their wine.'" Some producers, for instance, add a dash of Syrah for extra "umph," but Browne is firm: "We don't jack our wine." (Browne doesn't hesitate to enthuse over a bin of fragrantly fermenting Syrah in the cellar—it belongs to newly hired winemaker Shane Finley, and Finley's sideline is all about big, concentrated Syrah.)
In 2012, Kosta Browne will move into an even larger old apple warehouse at the Barlow, a multi-use market hall and light industrial center planned in downtown Sebastopol. Their commitment was a boon for developer Barney Aldridge, whose enthusiasm convinced them to make the move. The Barlow will offer them ample room to grow; what it won't offer, to the disappointment of expectant locals, is a place to taste Kosta Browne wines. But that's no oversight.
Early on, the partners strategically modeled their business after cult Pinot house Williams Selyem, which sells direct to consumers but only after making them wait their turn on a list. In 2002, Browne and Kosta took on third partner Chris Costello, who helped to build an allocation formula that starts with six bottles of entry-level wine after a three-year wait.
Some consumers chafe against the tightly controlled allocation scheme. They've heard "all kinds of crazy stories." "I got divorced and my wife took my allotment," goes one. "My father's on his deathbed and he's got to have six bottles now!" goes another.
A common complaint is that Kosta Browne drops people from its mailing list when they fail to purchase. Not so, says Browne. "We just sold your wine to someone else." The rigid discipline only keeps customers coming back for more, and a traditional tasting room amid the vineyards is far from their plans. "We'd have jumped the shark at that point," says Browne.
On a recent weekday after harvest, a small crew forklifts barrels of Keefer Ranch Pinot into position at a relaxed pace, already setting up for bottling in January. The 2010 vintage will be blended into 14 releases from 90 individual lots, and Browne will taste every one of them before making the call. "It's fatiguing," he sighs.
Meanwhile, a list of thousands never seem to tire of waiting.
Send a letter to the editor about this story.