11.23.11
home | north bay bohemian index | the arts | visual arts | review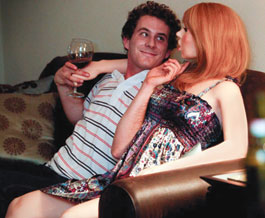 FULL SERVE:
Decades of artificial-intelligence innovation has come to this: Roxxy TrueCompanion, the 'world's first sex robot.'
Can I Help You?
Helpful service robots over the decades, from workout coaches to sex companions
By Rachel Dovey
Siri, the iPhone 4S "personal assistant," makes a great Christmas gift, and not just because she's helpful. If you're a tech-savvy asshole (or just curious), you probably already know how the sassy robot voice responds to questions like "What are you wearing?" or "When do you menstruate?" Of course, poor Siri isn't the first bionic being to suffer indignity in the name of progress. Here's a list of some other 'bots that have served us doggedly over the years—no matter what we subject them to—for that person in your life who just needs something to abuse.
HERO Both the 1982 HERO-1 and its successor HERO Jr. looked like a cross between R2-D2 and a copy machine, but the latter was infinitely more useful, acting as an alarm clock, home security system and (it was the '80s) workout coach. ($560 on eBay)
Tomy Dustbot What Roomba does now, Dustbot started doing in 1985, but with stick-thin arms and a mini broom. The Tomy gadget was equipped with edge sensors and a vacuum in case its inch-long dustpan missed anything. ($56 on eBay)
Omnibot With his mechanical drone and flashing red eyes, Omnibot could have been marketed as a device for scaring cats. Instead, the "fully-programmable" '80s 'bot was equipped with a remote-control handset, speaker and tray so he could bring you Kool-Aid and swear in Klingon for your friends. ($299 on eBay)
AIBO This robotic pooch fetched, sat, wagged its plastic tail and resembled a deformed sheep. Though technically not a service robot, the 1999 pup did help make the "RoboCup Four-Legged Robot Soccer League" a reality, and if you've never watched a team of mechanical dogs play soccer, you've never lived. ($750 on eBay)
Wakamaru The 2005 "caretaker" from Japan is designed to look out for your sick and elderly family members, if you happen to be fantastically wealthy. Its services include reminding patients to take their meds and calling emergency services if anything goes wrong. An embedded web camera allows family members to watch their ailing relative from afar. (Between $9,000 and $15,000)
Femisapien WowWee's female version of the Kung-Foo Fighting Robosapien can be your back-up singer, hold your business cards and make kissing noises in your general direction, because she's a girl and that's what we do. Sadly, since she only speaks "Emotish," Femisapien can't tell you if she's fallen over, so she just lies on the ground and sighs, hoping you won't forget about her but knowing you probably will. ($98.50 on Amazon)
Roxxxy TrueCompanion Complete with conversational abilities and a vapid expression, this life-size sex robot has several settings, including "Wild Wendy," "Frigid Farrah" and "Young Yoko," who, according to the True Companion Website, is "barely 18." She's not just a pleasure-bot, you see; according to creator Douglas Hines, she was released in 2009 to address your emotional and intellectual needs as well. Roxxxy has endless possibilities: You can tailor her personality to yours and, as the website points out, you can easily swap her with your friends' Roxxxys, which is "the same as wife or girlfriend swapping without any of the social issues or sexual-disease-related concerns!" And don't worry, TrueCompanion is neither sexist nor creepy, because Roxxxy has a male counterpart, Rocky, who is, apparently, a "beautiful hunk." ($1,495 for Rocky; $2,995 for Roxxxy; find out more, if you dare, at TrueCompanion.com)
Send a letter to the editor about this story.