11.23.11
home | north bay bohemian index | the arts | visual arts | review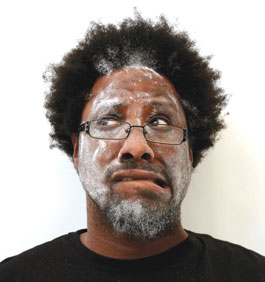 Funky President
W. Kamau Bell's laughter against the machine
By Lacie Schwarz
Whereas some comedians challenge the audience to avoid flying pieces of smashed watermelon and others test the audiences' patience and ability to sit through the most horrendous of jokes, the comedians of Laughter Against the Machine challenge the audience to do more than passively observe.
Headlining comedian W. Kamau Bell is the type of comic anyone would love to have a drink with. Bell delivers his humor with a side of sass and a bit of satire, poking fun at the audience he's aiming to entertain. Appearing on Comedy Central's Premium Blend in 2005, Bell toyed with the idea of what it might be like to have a black president. Predicting that a man like Barack Obama could never attain status of Commander-in-Chief, he quipped, "One day there may be a black president, but there will never be one named Barack Obama—that's too black." Well, the joke's on him!
The righteous Nato Green and forward-thinking Janine Brito are also part of the Laughter Against the Machine tour. Through humor and pressing social and political commentary, the comedians aim to trigger the audience's mental gears on Wednesday, Nov. 30, at George's Nightclub. 842 Fourth St., San Rafael. 8:30pm. $10–$15. 415.226.0262.
Send a letter to the editor about this story.