11.23.11
home | north bay bohemian index | sonoma, napa, marin county restaurants | preview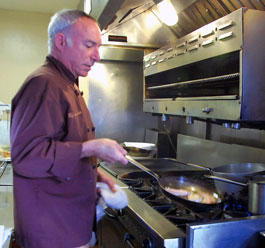 Photograph by Alma Shaw
NORTH COUNTRY:
Steve Rose in the kitchen at the Vineyards Inn. "We finally pulled it off," he says of their Basque dinners.
Spanish Torch
Kenwood's Vineyards Inn goes Basque to the future
By Stett Holbrook
Before it closed, I once ate at San Francisco's Des Alpes Hotel. The wood paneling, heavy drapes and carpeted floors created a dark, clubby atmosphere suffused with history; the restaurant had served as a home away from home for Basque immigrants since 1908.
The attraction at Des Alpes was its all-you-can-eat-and-drink menu, served family-style. A few years later, the restaurant closed, and the city lost a link to the past.
So I was thrilled to learn this history—and food—live on at the Vineyards Inn in Kenwood, with a glowing fireplace, a lively bar and a dining room framed by some seriously old vines growing inside.
Steve and Colleen Rose have owned the Vineyards Inn since 1981, when it was predominantly a Mexican restaurant. They originally moved to San Francisco from the Spanish Basque country, and Steve's late father, also a chef, even worked at Des Alpes for a while. About 15 years ago, the Roses started serving Spanish food at Vineyards, and, encouraged by Steve's father, considered a specialty Basque menu, but they weren't sure how Sonoma County would respond to the cuisine.
They needn't have been so hesitant. Four years ago, the Vineyards began offering monthly Basque dinners, by reservation only, on the second Thursday of the month. They usually fill up a month in advance.
"We finally pulled it off," says Rose, crediting his father. "It's definitely in honor of him."
Basque cooking in America is far different from the modernist fare championed by Spanish chef Ferran Adria, known for deconstructionst and innovative cuisine. As practiced by Des Alpes, Basque cooking was ranch food—hearty, simple and bold.
The Vineyards Inn serves basically the same all-you-can-eat sheep-rancher food that Des Alpes served, with the notable difference that almost all the food and wine comes from either the Roses' nearby garden or local purveyors. At the couple's 11-acre ranch, they grow merlot and primativo for Benziger Winery, but hold a little back to make into wine for the restaurant.
In between the vines, Steve grows vegetables year-round, a rarity in this region of grape monoculture. With its extensive composting program, biodynamic and organic-certified produce, eco-certified seafood and wine-on-tap program, the Vineyards Inn is also one of the greenest restaurants in Sonoma County.
How's the food? At $45 per person including wine, it's great, especially considering it comes from premium, local ingredients. The seven-course meal begins with a simple soup; on my visit it was a chicken broth-based soup with last-of-the-season zucchini, white beans, saffron and garlic. Other dishes include lamb albondigas (meatballs) in a mushroom cream sauce, garlic chicken, wonderful double-fried fries and homemade ice cream.
A highlight is the kale salad. It's made with the same egg-white vinaigrette served at Des Alpes long ago. Steve Rose acquired the recipe from the late owner, and he makes it with a different seasonal green each month.
A passing of the torch? Yes, in Kenwood, the tradition lives on.
Vineyards Inn, 8445 Sonoma Hwy., Kenwood. 707.833.4500.
Send a letter to the editor about this story.