11.23.11
home | north bay bohemian index | features | north bay | green zone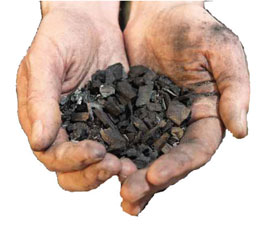 From the Soil
Biochar: Climate Superstar?
By Juliane Poirier
Since 2009, when he learned how biochar protects the atmosphere, Ray Gallian has been busy. "I've been running around like a crazy person," Gallian explains, "telling anybody who would listen."
Hearing it praised sure beats looking at it—biochar is lumpy, burnt and no sexier than barbecue briquettes. But put biochar in the ground, and you've not only got healthier, more productive soil that needs less irrigation, you've also taken carbon out of the cycle for possibly thousands of years.
"It's what they call a fast mitigation technology," explains Gallian, founding member of the Sonoma Biochar Initiative. "By making biochar, we get carbon out of the air and into the ground where it can do some good." As a functional enterprise, biochar production is still embryonic, its technology still more promise than product. "But we have to move ahead," Gallian claims, "because the benefits are so great."
Biochar is made by burning plant and animal waste products in a low-oxygen environment, much like smoldering. The liquid and gas byproducts can then be captured to generate clean energy. To garner funding for large-scale projects, advocates need to demonstrate viability. "We need to make this work," said Gallian. "We're trying to make sure something sensible happens before we don't have an option."
But soil science researchers can only go so fast. "If we're really going to promote this stuff," says UC Berkeley researcher Andrew Crane-Droesch, "we should know to the best of our ability how long it works."
Crane-Droesch is investigating the degree to which mechanical disturbances (plowing) or the presence of root zones impact the potential decomposition of biochar. He wants to understand the conditions under which carbon remains in the soil. Because there are so many types of soils and cultivation conditions, Crane-Droesch says gardeners and farmers may contact the international biochar initiative for guidelines on experiments. "Researchers like me," says Crane-Droesch, "would love to have a huge data set to run the stats and find out what works where and why."
Mark Sandler of the Sonoma County Regional Climate Protection Authority says the RCPA is "loosely" looking at biochar. "There's a lot of potential in biochar for addressing carbon emissions in the agricultural sector," says Sandler. "A carbon price would make biochar's carbon sequestration even more valuable."
Ten tons of biochar will be available for use in vineyard field trials beginning March 2012. According to David Morell, former EPA official and founding member of the Sonoma Biochar Initiative, these are the first such trials in North America. "We don't want to grow more grapes," Morell explains. "We're looking for water retention [in biochar-amended soils]."
See www.biochar-international.org or www.sonomabiocharinitiative.org.
Send a letter to the editor about this story.