11.23.11
home | north bay bohemian index | movies | current reviews | film review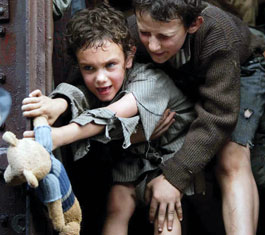 TORN:
Rose Bosch's film views the horrors of occupied France through children's eyes.
Summer of '42
'La Rafle' an important step for French cinema
By Richard von Busack
Any accusations against Steven Spielberg for putting a happy ending on the Holocaust in Schindler's List have to be repeated for Rose Bosch's La Rafle (The Round-Up). The French director is the second to make a film about the Rafle du Vel d'Hiv (Gilles Paquet-Brenner, who made Sarah's Key, is the other), and perhaps because the subject matter has been cautiously untouched in film for 70 years, the films ends on a strangely peaceful note.
In the summer of 1942, the Nazis commenced their ethnic cleansing of Paris. The Jewish population was rounded up and herded into a bicycle velodrome without food, water or sanitary facilities, before being taken to concentration camps. Bosch focuses here on those with heart—Jean Reno as the facility's one doctor, with a selfless nurse by his side, Melanie Laurent (fighting the Nazis again, as she was Inglourious Basterds). Likewise, Hugo Leverdez is appealing as the clever blonde kid who seems able to outwit the Nazis.
Bosch wants to wring the viewer's heart, and she's often blatant about it, as with the reappearance of an interned child's teddy bear. She uses multiple viewpoints of the powerful and the powerless together, as when lit cigarettes link a stateless Jew in Paris with the Vichy politician Pierre Laval. Sometimes this matching is too perfect—from a smuggled gift of toffees in the Beane camp, Bosch cuts to a chocolate cake Hitler receives as a gift in Berchtesgaden. (It's the cinematic equivalent of the novelists' "While the peasants starved, the king lived in luxury.")
Along with Sarah's Key, La Rafle is a big step for the French in admitting the country's past. It's all very gripping and emotional, but in the end, the tense scenes of occupied Paris seem more authentic than Bosch's insistence on a return to normalcy, with Debussy's Clair de Lune spread all over it like Nutella on a crepe.
'La Rafle' screens as part of the Jewish Film Festival on Nov. 29 (1pm, 7:15pm) and Dec. 7 (7:15pm) at Sixth Street Playhouse, 52 W. Sixth St., Santa Rosa. $10-$12. 707.528.4222.
Send a letter to the editor about this story.