11.23.11
home | north bay bohemian index | music & nightlife | band review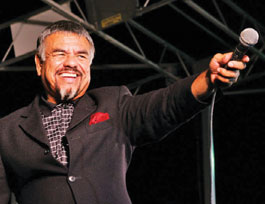 Grandes Exitos
Little Joe y la Familia keep Tejano spirit alive
By Leilani Clark
At the height of the Chicano Rights movement in the 1970s, Little Joe's polka-ranchera "Las Nubes," a song inspired by Cesar Chavez, became an anthem for Mexican-Americans and the United Farmworkers Movement across California. "I can't go on, if I have to go on suffering," sings Little Joe, between zesty horn flourishes. "The years go passing by and I don't lose my hope."
The song is just one example of the Grammy award–winning Tejano pioneer's border-crossing, culture-busting way of making music that mixes social commentary with crowd-pleasing, danceable energy. A byproduct of the working-class conjunto sound made popular by Flaco Jimenez, Little Joe's style of Tejano blends country, rock, blues, polka and guttural hoots and hollers with beautiful synthesizer beats. Born in Texas, Little Joe has been playing this hybrid music since the late 1950s—long before Selena (the reigning "Queen of Tejano") bridged the gap between American pop and Latino sounds—and he was considered the leader of the Chicano wave; luckily, this Tex-Mex king continues to please crowds with high-energy performances to this day. See Little Joe y la Familia play their hearts out on Saturday, Nov. 26, at the Last Day Saloon. 120 Fifth St., Santa Rosa. 8pm. $35–$50. 707.545.2343.
Send a letter to the editor about this story.