11.23.11
home | north bay bohemian index | sonoma, napa, marin county restaurants | preview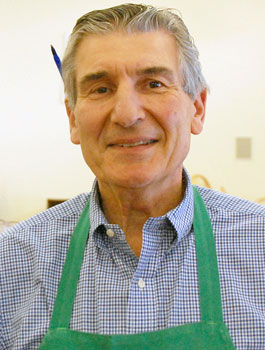 Traverso's Closes
By Anna Freeman
After 79 years in business, Traverso's Gourmet Foods will close its doors on Wednesday, Nov. 30. Though there has been some interest in a late-hour sale of the local Italian market, co-owners George Traverso (pictured) and his son Michael will be moving on. "Dad will retire," says Michael. "I plan to explore my options. I'll definitely stay in the area and will probably end up doing something more with wine."
As one of Santa Rosa's beloved fine-food markets, Traverso's has been part of the community since 1932, when Charlie Traverso opened the original store near Railroad Square. It moved to Third and B in 1973, and the family business will end at its newest location in Fountaingrove.
Traverso's is planning a weekend closing sale and celebration from Friday, Nov. 25, through Sunday, Nov. 27. Store hours are 10am to 5pm (10am to 6pm on Sunday). The store's Twitter and Facebook feeds will post a daily percentage discount.
Delicious Italian food and quality wines may have brought one to Traverso's in the first place, but the friendly, helpful atmosphere kept everyone coming back. Stop by this weekend for a chance to say thanks to the nice folks who brought us a lifetime of quality food—always with a smile.
Traverso's, 2097 Stagecoach Road, Santa Rosa. 707.542.2530.
Send a letter to the editor about this story.