11.23.11
home | north bay bohemian index | columns | wine tasting room of the week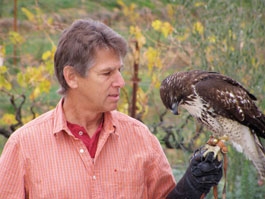 Hawley Winery
By James Knight
A patchwork quilt of yellow, flame-red and burnt sienna over a carpet of green, the North Bay's vineyards are closing out the year with a flourish. By mid-November, the hubbub of harvest is over, and, to the relief of neighbors, the booming cannons and screeching noisemakers employed to scare off marauding birds from succulent grapes have fallen silent. Soon, workers will mark the young vines that were overcome by hungry gophers for spring replanting. Amid organically grown vineyards above West Dry Creek Road, John Hawley is already prepping his latest weapon of bird-scaring, gopher-abating technology: a red-tailed hawk named Breeze.
Just hatched this year, two-pound Breeze is already an imposing bird. After being released from her leash, she scouts out from the eaves of Hawley's modest winery before gliding back to his gloved hand—and a little reward. Naturally, she dines on wine country cuisine: cage-raised quail, shipped in bulk from a supplier.
"She's got a gentle personality," Hawley says, and indeed, she took to him rather easily. After only three weeks in captivity, she began following him on walks, tracing his path like a faithful dog. And although his vineyard pest troubles are minor, Hawley—license to hunt in hand—says that Breeze will get to play her role. Not until the hawk is returned to her perch does a single finch skitter back into view.
Straight out of UC Davis in the 1970s, Hawley made wine for some of the area's biggest wineries, but since 2000 has enjoyed the smaller scale of his 3,000-case family business. Hawley's bestseller, Viognier: The 2010 Sonoma County ($26), has demure white peach and apricot aromas, moderate acidity and a body rounded by aging in neutral oak. The vibrantly hued 2006 Hawley Vineyard Merlot ($27), with licorice, chocolate liqueur and brambleberry flavors, is an exciting expression of this maligned varietal.
With the encouragement of sons Austin and Paul, Hawley opened a retail room in downtown Healdsburg. Paul, who studied photography and film, says that taking up his father's vocation was furthest from his mind until he signed on to the New Zealand crush. Made in the kiwi style, the tonic 2010 Dry Creek Valley Sauvignon Blanc ($21) has clean, mineral and lime qualities. The brothers insisted on taking responsibility for this new release, so when they ran into problems, the master vintner only told them, "I don't know, you figure it out." But Hawley says he's relieved that the boys came around—he'd like to take a day off now and then. All he had to do was let them go.
Hawley Tasting Room, 36 North St., Healdsburg. Daily, 11am to 6pm; $5 fee. 707.473.9500.
Send a letter to the editor about this story.